The best places for CoolSculpting in London. The best London fat-freezing clinics, according to user reviews. Book the best skincare clinic in London.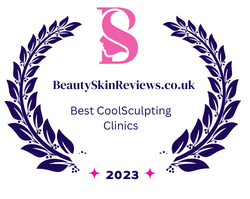 List of Best CoolSculpting in London
Reputation
Google 4.4 / 5 (1200)
Business Description
The Thérapie Clinic offers CoolSculpting services to clients in London. It is suitable for both men and women. People notice a 20% to 25% Fat reduction after the treatment. The areas that you can do CoolScupting for include back fat, bra fat, underarms, under the buttocks, and under the chin. The Thérapie Clinic is one of the largest clinics in London. It has over twenty years of experience in laser hair removal and aesthetic treatments.
Reputation
Google 4.9 / 5 (124)
Business Description
Artistry Clinic serves residents of London. CoolScupting is a non-surgical cosmetic procedure that is effective in permanently destroying fat cells without affecting other areas. It is FDA-cleared for treating visible fat bulges. You can do your normal activities after the CoolScupting treatment. The Artistry Clinic team comprises the most innovative and talented physicians. their goal is to deliver the most beautiful, natural and authentic result that is true to their patients' physical and emotional needs
3. Pulse Light Clinic Fenchurch Street
Reputation
Google 4.8 / 5 (98)
Business Description
The Pulse Light Clinic is based in London. The CoolSculpting treatment is effective at permanently destroying fat cells. However, consuming more calories than required to maintain your weight might lead to the production of more fat again. So, typically, patients who maintain their weight will maintain their results permanently. The services include CoolSculpting for bra fat, arm fat, belly fat, flank fat, back fat, and double chin.
Reputation
Google 4.8 / 5 (107)
Business Description
Aesthetics Lab offers its services to clients in London and the surrounding areas. They offer many Aesthetic treatments, including CoolSculpting, cheek fillers, laser tattoo removal, mesotherapy, fat reduction and semi-permanent makeup. They use BodySculpt with Vanquish ME, which is a non-invasive body contouring treatment that uses radiofrequency (RF) technology to reduce unwanted fat and reshape the body. The three founders of Aesthetics Lab, Marsha, Tania, and Kristina, are three hardworking, passionate women who are experts in the aesthetics industry.
5. The Cosmetic Skin Clinic
Reputation
Google 4.6 / 5 (52)
Business Description
The Cosmetic Skin Clinic offers CoolSculpting and skin tightening to clients in London. The CoolSculpting technology will safely deliver controlled cooling to freeze the fat cells underneath the skin. The treatment is very gentle on the skin. As the fat cells are more susceptible to temperature change than your skin, fat freezing can occur without causing damage to the skin cells. Through the fat freezing treatment, your body will be more sculpted.
FAQs
How much does CoolSculpting cost in London?
The typical cost of a CoolSculpting treatment cycle in the UK is between £600 and £1,500. Depending on the area treated and the amount of fat present, several cool sculpting treatment cycles may be necessary to produce the desired effects.
How Long Should I Stay in London for a CoolSculpting Procedure?
As an outpatient operation, CoolSculpting allows you to leave the hospital or clinic as soon as your session is finished. You can take a flight back home the same day because there is no anaesthesia, no incision, and no need for stitches. You are not required to remain in the US for any longer than you choose. However, if you endure brief bruising, pain, or discomfort, your doctor may advise you to return home the following day so your body has time to heal in the clinic.
Other Beauty Clinics in London
Hello! This is Esraa Sheta, Beauty Editor and Pharmacist. I have been creating product reviews for over 7 years now. All the product reviews for BeautySkinReviews are unbiased. I carefully select the products and rigorously test them to ensure that the reviews are truthful and beneficial to customers. I'm confident that you will discover a wealth of valuable tips and tricks to elevate your skincare routine.