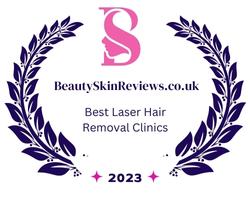 Top Laser Hair Removal Clinics in Winchester
Reputation
Google rating 4.4 / 5 (46)
Business Description
Sparx Beauty Ltd serves residents in Winchester. It helps women and men remove unwanted hair from almost all body areas. They offer both IPL and laser hair removal treatments using Lynton Luminette Advance and Lynton LipoMax technologies. The laser targets the hair follicle underneath the skin without affecting the skin around it. The clinic also offers body fat reduction treatments, skin tightening, laser tattoo removal and non-surgical treatments to its clients. Penny Kimpton is the managing director of Sparx Beauty Clinic, and she has over ten years of experience in IPL, Laser hair removal, and general beauty treatments.
2. The Secret Garden Skin Clinic Winchester
Reputation
Google rating 5 / 5 (69)
Business Description
The Secret Garden Skin Clinic offers IPL hair removal treatments to clients in Winchester. IPL stands for intense pulsed light. The machine uses high-powered pulses to destroy the hair follicles beneath the skin. It also helps treat many skin conditions. The clinic also offers laser thread vein reduction treatments. It removes the 'spidery' appearance of veins on the face and body. Sharron is the clinical director of the Secret Garden Clinic. She is an award-winning prescribing consultant pharmacist.
Reputation
Google rating 5 / 5 (484)
Business Description
Richmond House Beauty is a skin care clinic that serves customers in Otterbourne, Winchester. The clinic uses Soprano Ice Platinum laser hair removal, which is FDA-approved. The Soprano Ice Platinum Laser is suitable for a wide range of skin tones and shows permanent hair growth reduction. All technicians are Level 4 trained in using medical-grade lasers. Amy Matthews, who owns and runs Richmond House Beauty, is a luxe beauty expert and has over ten years of laser hair removal experience.
4. Reverse Time Wellness and Aesthetics
Reputation
Google rating 5/ 5 (56)
Business Description
Reverse Time Wellness and Aesthetics serves both women and men, providing many anti-ageing treatments and body shaping. The team is very professional as they will help you get the best results fast. The treatments are effective and tailored to your needs. Dr Aarti is a highly skilled professional who puts her patients immediately at ease.
5. S.A Threading & Beauty Studio
Reputation
Google rating 4.8 / 5 (77)
Business Description
The spa is really professional, offering waxing, threading, skincare and body treatments. It is a great place to relax and have a full body massage. The lovely lady at the shop was nice and professional. She knows her work very well. It is a good alternative to laser hair removal for those who like waxing treatments.
Find top Laser Hair Removal Services nearby
Hello! This is Esraa Sheta, Beauty Editor and Pharmacist. I have been creating product reviews for over 7 years now. All the product reviews for BeautySkinReviews are unbiased. I carefully select the products and rigorously test them to ensure that the reviews are truthful and beneficial to customers. I'm confident that you will discover a wealth of valuable tips and tricks to elevate your skincare routine.