Did you get a recently done tattoo of your favourite game on your wrist or a tiny animal tattoo? Perhaps you want to have roll flower tattoos on your back? We will talk about the best moisturisers for tattoos in the UK to speed up your healing process and to have the perfect tattoo colours and ink.
Using a moisturiser is essential in our skincare routine. And it becomes more important after having a cosmetic procedure or having a new tattoo. It is very important to hydrate the skin to reduce irritation and skin inflammation. Let's dive into the top-rated moisturisers according to pharmacist reviews and customer reviews.
1. Vanicream Skin Cream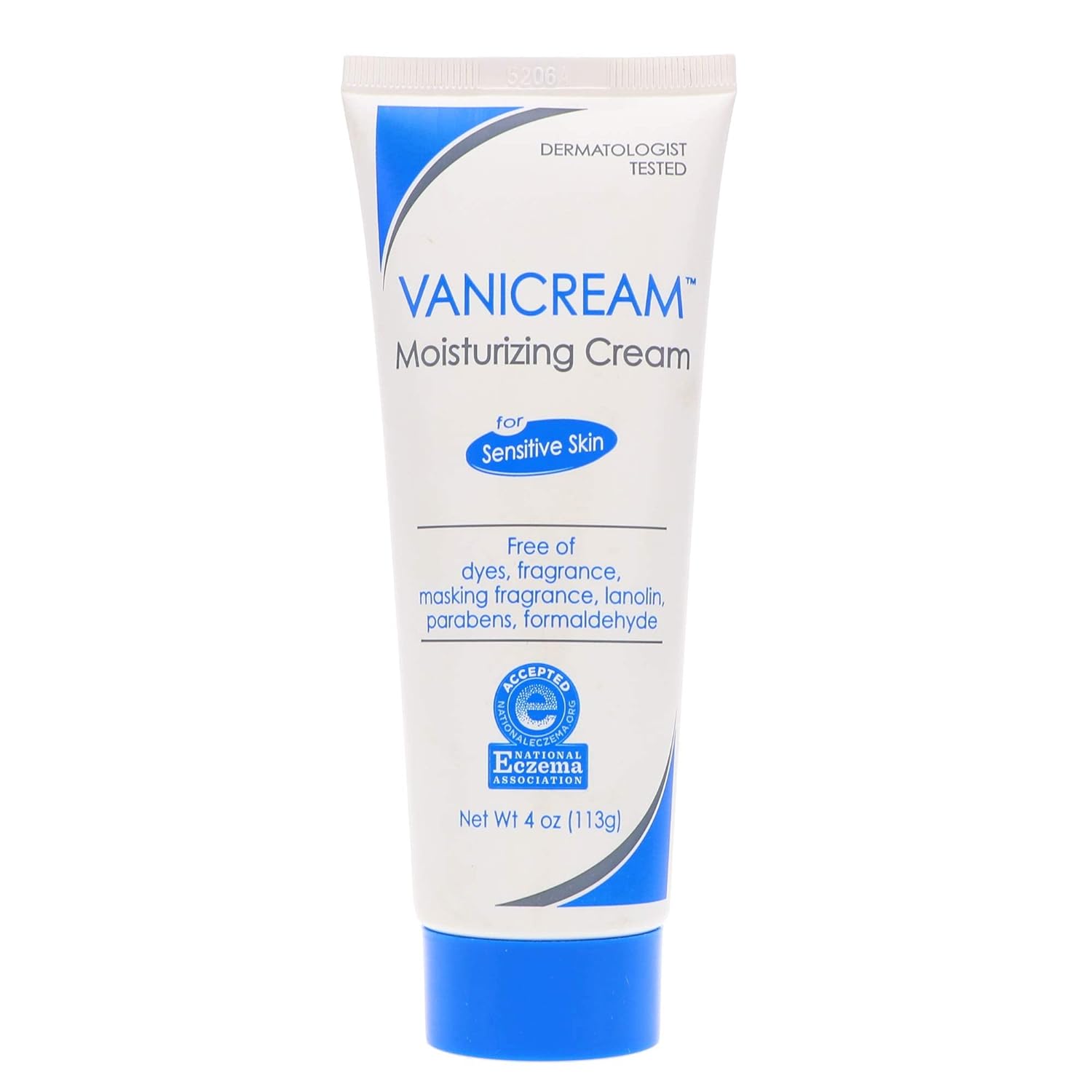 Pros
Great aftercare tattoo moisturiser

Moisturises and hydrates the skin

Easily absorbed by the skin
Cons
Leaves a little sticky feeling
If you have sensitive skin, applying Vanicream is a great option to hydrate and soothe your new tattoo. It protects your skin, and it is free of common chemical irritants. It is suitable for all skin types and is parabens-free. Vanicream is also a great option for dry skin as it has dimethicone, which traps hydration. Make sure you apply it on damp skin to increase its efficacy of trapping water.
Key ingredients: microcrystalline wax (protects); dimethicone (traps in hydration)
2. Cuderm Lotion Moisturiser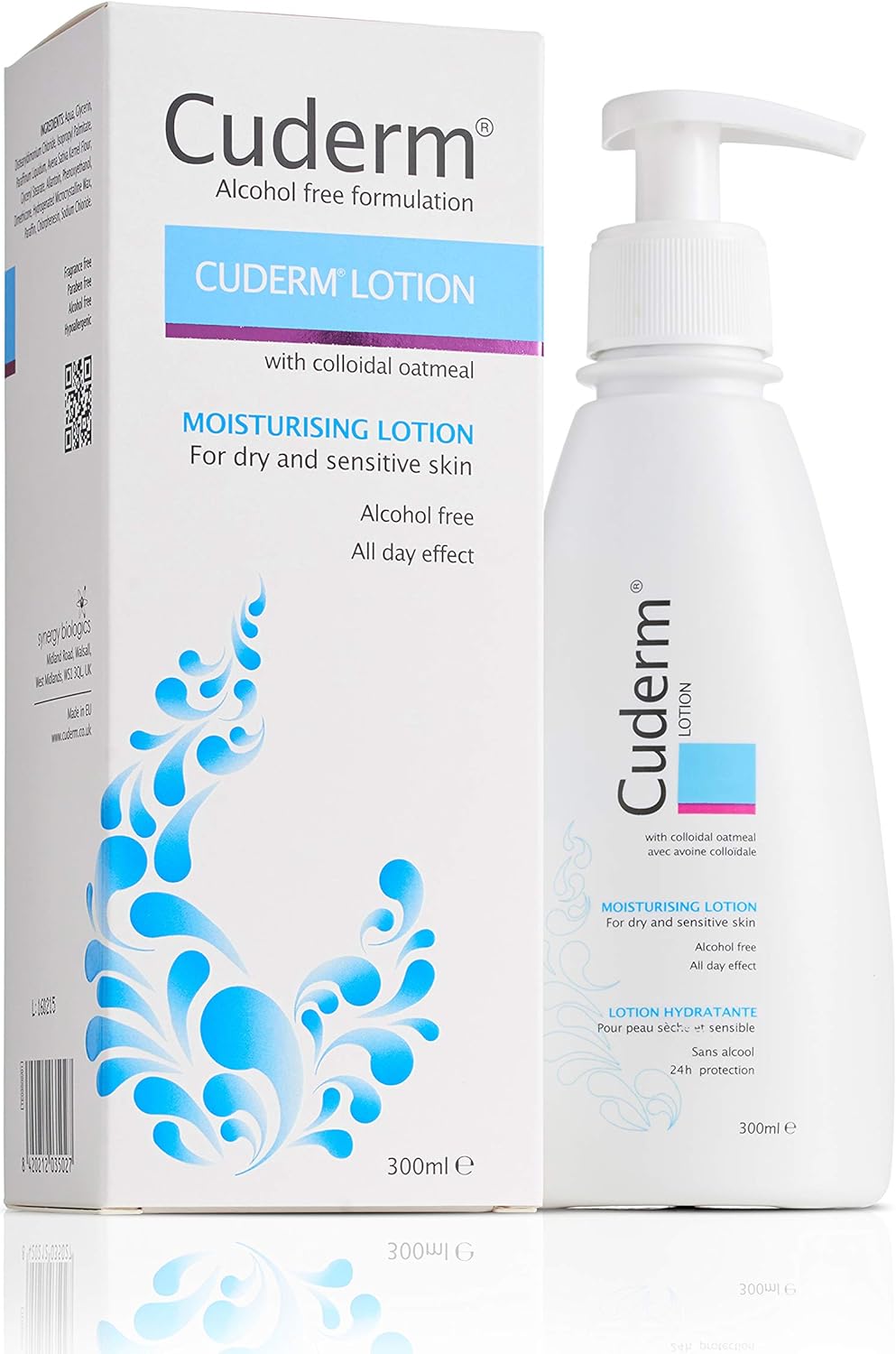 Pros
Moisturising lotion for dry and irritated skin

For all skin types

Up to 24-hour hydration

Alcohol-free

Suitable for Vegans
Cons
For at least 3-4 weeks after having a tattoo, you should moisturise your skin daily. Using SLS Free, Hypoallergenic lotion Cuderm Moisturiser. It is clinically proven to provide up to 24 hours of hydration. It also works for many skin conditions, such as eczema, dry skin, sensitive skin, irritable Skin and psoriasis. Nothing like moisturising to keep your skin healthy and protect your skin barrier.
The review: "Lovely texture and soaks in very easily". Write one reviewer "I like the pump dispenser".
Key ingredients: Avena Sativa Kernal Flour (soothing); dimethicone (traps in hydration); Glycerin (retains moisture in the skin)
3. Tattoo Goo Aftercare Lotion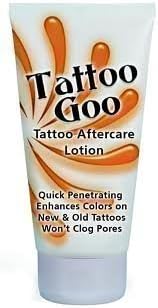 Pros
For all skin types

Help the skin healing process

Easily absorbed by the skin

Ideal for a new tattoo
Cons
Tattoo Goo is very easy to apply as it is formulated in a lotion formula. I don't find it greasy. It's one of the best tattoo moisturisers I tried. It improves skin healing, prevents scabbing and protects dry skin. If you have a new tattoo and are looking for an aftercare moisturiser with a lightweight formula, it is a great choice. Tattoo Go Lotion is also helpful for skin hydration weeks after the tattoo process.
Key ingredients: olive oil (moisturising), beeswax (soothing), cocoa butter (helps form a protective layer on skin)
4. Eucerin Original Healing Rich Lotion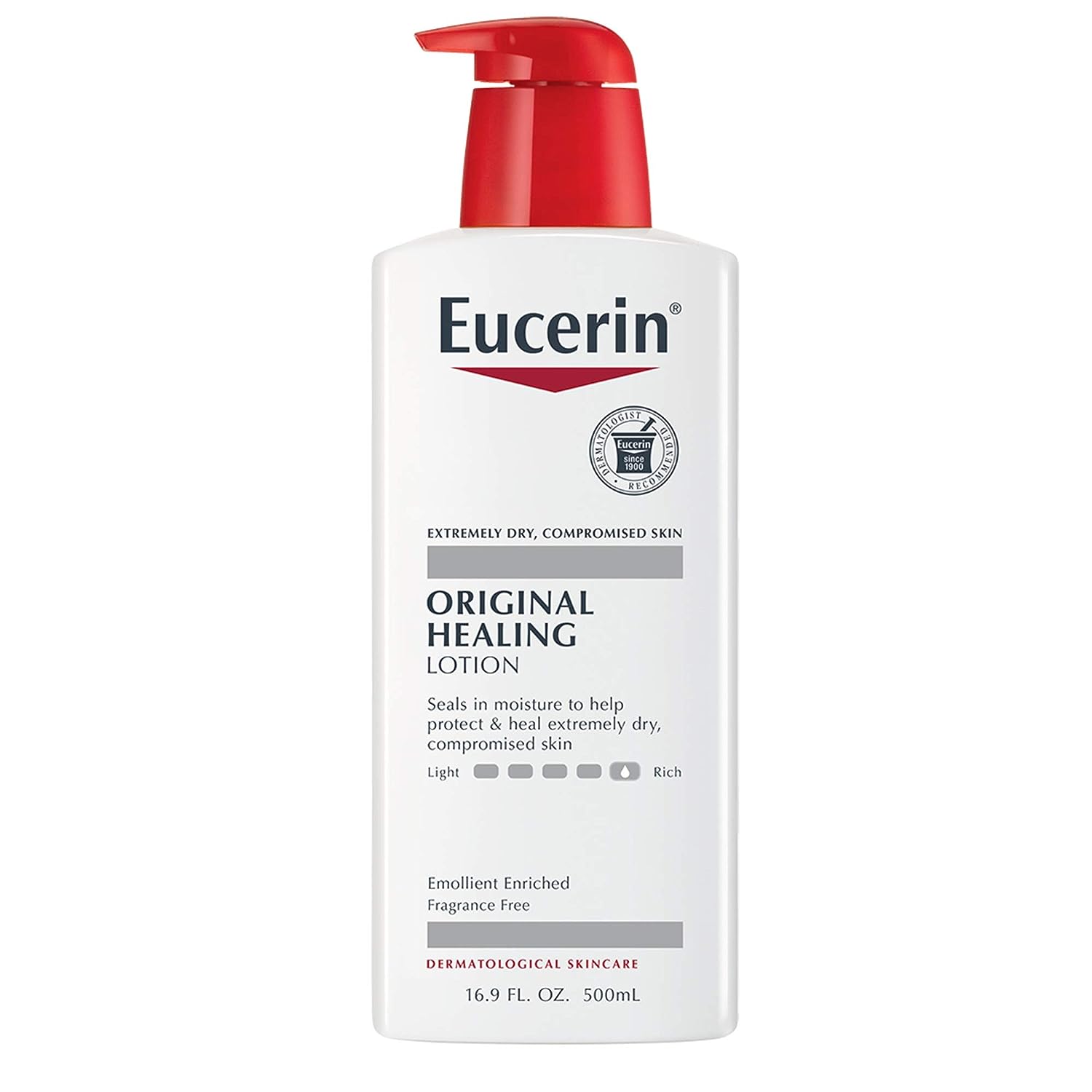 Pros
Dermatological skincare

Fragrance-free

Helps protect and heal skin
Cons
The skin easily absorbs Eucerin Original Healing Rich Lotion. It is one of the best moisturisers after having a tattoo and for very dry skin. The formula helps retain skin moisture and improve the feeling of the skin overall. It is totally worth it, and actually, the formula outperformed many prescribed moisturisers in my experience. I use it twice daily for maximum skin protection.
The Review: "Very good for dry skin". The reviewer also said, "Used this on the whole body soaks in well, leaving skin smooth and silky".
Key ingredients: Propylene Glycol (helps to retain moisture), Phenoxyethanol (inhibits the growth of bacteria) and Citric Acid (exfoliates the skin and improves texture).
5. After Inked VEGAN Tattoo Aftercare Cream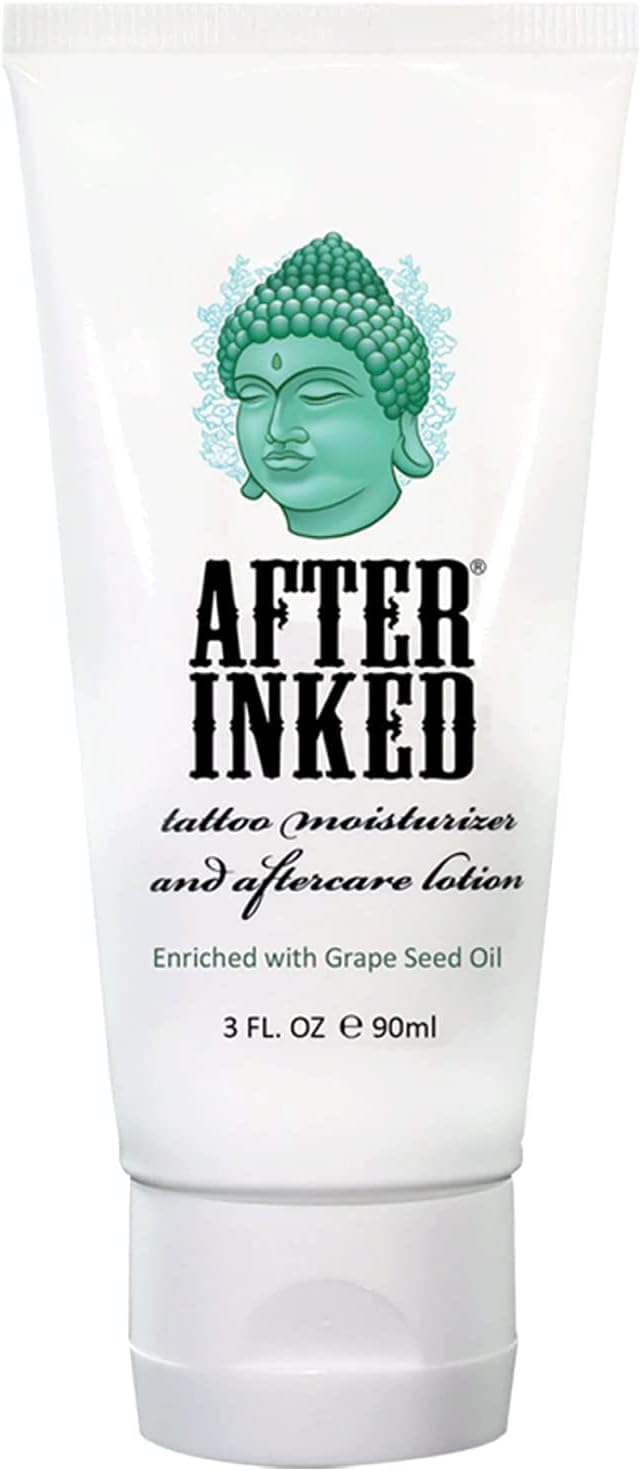 Pros
Soothing aftercare tattoo lotion

Daily skin moisturiser for new and old tattoos

Dermatologist tested

Paraben-Free, Fragrance-Free
Cons
Moisturising your skin after having a tattoo is essential to prevent irritation and speed up the healing process. The After Inked Cream is formulated to soothe new tattoos and enhance the colours of existing tattoos. It smells so good and is quickly absorbed by the skin. The only downside about it is a bit sticky, although it has good skin coverage.
Key ingredient: grapeseed oil (moisturising and hydrating the skin without a greasy feeling).
6. Avene Cicalfate+ Repairing Protective Cream

Pros
multi-task repairing cream

Improves skin appearance and texture

hypoallergenic & paraben-free

Dermatological Skincare
Cons
Apply Avene Cicalfate+ Repairing Protective Cream to protect your skin barrier and reduce moisture loss. I recommend using it twice daily after having a tattoo for at least 5 days. You can use it once or twice daily for 24-hour hydration. Apply to clean skin and rub it into your skin. This cream also helps with many skin conditions, including broken skin, eczema, nappy rash, stitches, bed sores and skin ulcers.
The Review: "Second purchase". The reviewer said: "It is an excellent cream that leaves the skin soft and well hydrated. I'm on my second tube and will continue to use it as a moisturiser."
Key ingredients: Zinc (

antimicrobial and anti-inflammatory)

and glycerin (holds skin moisture).
7. Curél Ultra Healing Intensive Lotion
Pros
Suitable for sensitive skin

Dermatologist recommended

Fragrance-free
Cons
You should moisturise your skin for at least a month after getting a tattoo. If you have dry skin, this formula is ultra-healing. It made my skin hydrated all day long, and my skin felt soft till the next day. It has a very lovely smell too.
Key ingredients: Ceramide (maintains skin moisture), Shea Butter (moisturises the skin), glycerin (keeps skin hydrated), eucalyptus (

antimicrobial)

, and isopropyl alcohol (

antiseptic).
8. Gold Bond Ultimate Healing Lotion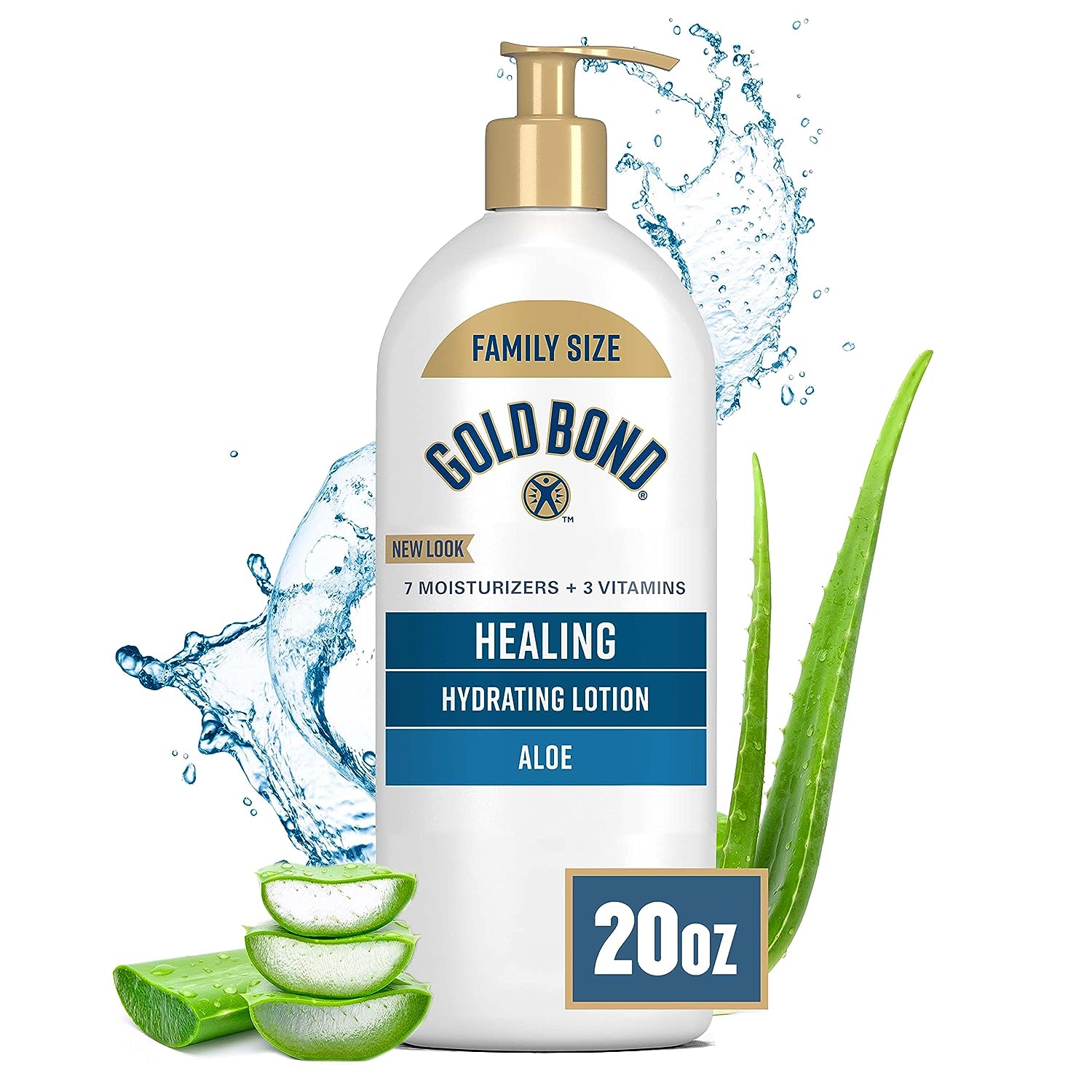 Pros
Long-lasting hydration

more budget-friendly aftercare tattoo lotion

It doesn't make the skin greasy
Cons
When you get a new tattoo, you should follow the instructions of your tattoo artist. These instructions include cleansing the skin and using a moisturiser. Gold Bond Healing Lotion helps moisturise the skin and improve the healing process. It also reduces skin irritation and protects the tattoo's colours and lines. It easily lasts 24 hours and is easily absorbed by the skin.
The Review: "This cream is quite literally the best body moisturiser I have ever used." The reviewer said: "I've tried most moisturisers from luxury £150+ down to supermarket home brands. This lotion doesn't have an offensive scent, and the best part is its effectiveness".
Key ingredients: Vitamin C(

antioxidant)

, shea Butter, Hyaluronic Acid (hold moisture), and Aloe Vera
9. Vaseline Intensive Care Spray Moisturiser

Pros
Deeply moisturise the skin

Great aftercare lotion for tattoo

not greasy or sticky
Cons
Vaseline Intense all-purpose moisturiser creates a protective barrier that allows skin to heal and prevents moisture loss. It is designed for easy application and provides full skin coverage. It is recommended to use it for at least 3 days after having a tattoo to keep the skin protected and hydrated. This unique formula helps heal very dry skin.
The Review: "It is amazing". The reviewer said: "This spray-on cream is so soothing it's great for tattoo aftercare hydration or any skin condition that needs some relief".
Key ingredients: Carbomer (anti-itch and reduces skin redness) and glycerin (retains moisture in the skin).
10. Aveeno Daily Moisturising Lotion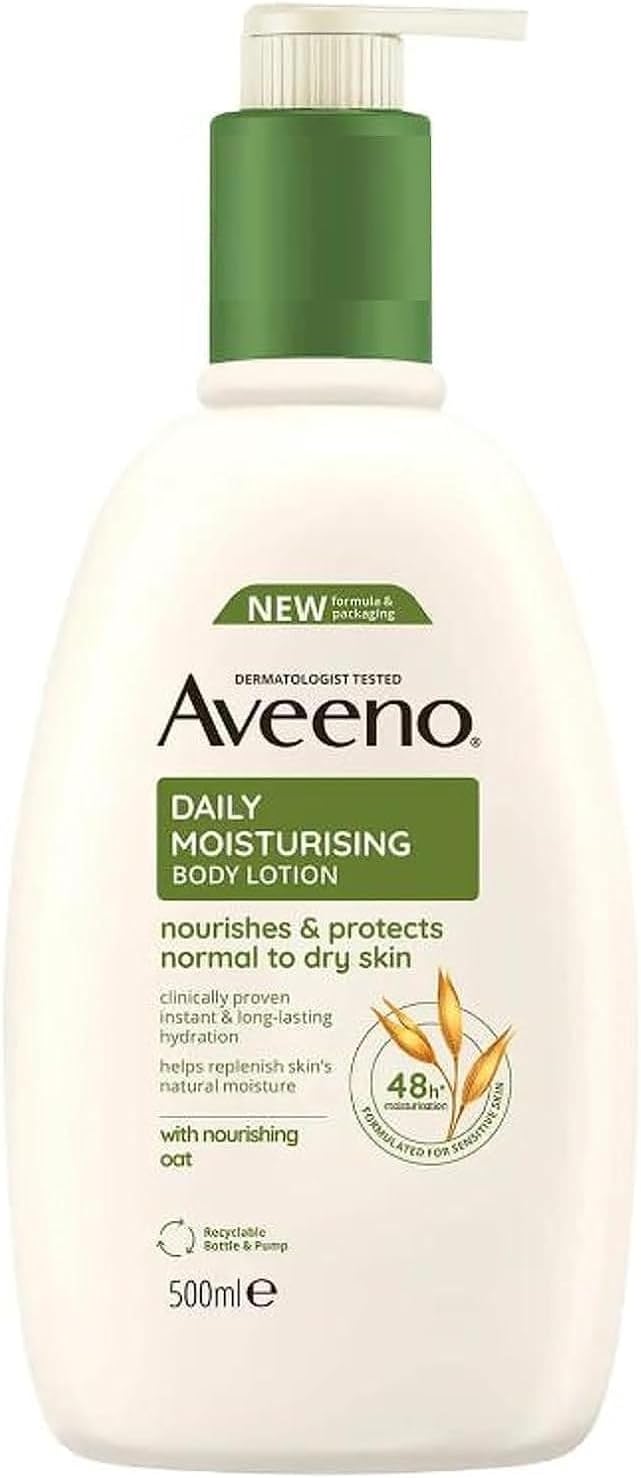 Pros
Lightweight moisturiser

Fragrance-free

preserves the skin's natural microbiome for healthy-looking and well-hydrated skin

For all skin types

Very hydrating tattoo aftercare lotion
Cons
After getting a tattoo, you should stay out of the sun for at least 3-4 weeks. If you have to go out in sunny days, make sure to cover the tattooed area, as the skin may be very sensitive. Aveeno moisturising lotion is very soft, which makes it ideal for sensitive skin. It has a lovely, gentle scent, and it is not greasy.
Key ingredients: Glycerin (attracts and retains moisture).
FAQs
How often should you moisturise a new tattoo?
You should moisturise your tattooed area 3-5 times per day, especially during the first 5 days after the tattoo process. Make sure you apply moisturiser into your skin for 4 weeks to protect your skin and to speed up the healing process.
What to consider when using moisturiser for tattoos?
Look for oil-free moisturisers to avoid skin irritation.
If you have sensitive skin, use a lightweight moisturiser
Cleanse your skin well before applying the moisturiser
Avoid applying sunscreen as your skin might be very sensitive
Avoid swimming before the tattoo has healed.
Using the best creams for tattoos 3-5 times. At least twice daily if you have a busy schedule.
Avoid direct sun exposure after having a tattoo, as it reduces the moisturising efficacy and might cause skin irritation.
Sources:
15 Best Lotions for Healing a Tattoo in 2023 – Cosmopolitan

9 Best Lotions for a New Tattoo of 2023, Tested by Experts – GHK

The 12 Best Tattoo Lotions and Ointments for Instant Relief, According to Experts – HerpesBazaar
Hello! This is Esraa Sheta, Beauty Editor and Pharmacist. I have been creating product reviews for over 7 years now. All the product reviews for BeautySkinReviews are unbiased. I carefully select the products and rigorously test them to ensure that the reviews are truthful and beneficial to customers. I'm confident that you will discover a wealth of valuable tips and tricks to elevate your skincare routine.