Fontainavie tan accelerator review: is it worth it? how does it work? How to use it? And when to use it? Find out now.
Tans are very trendy now, especially in the UK. Many women think that they are more attractive when they have a tan. Who can resist a sunkissed glow after all? Tan accelerator boosts your tan to get an ideal golden colour faster.
Fontainavie Tan Accelerator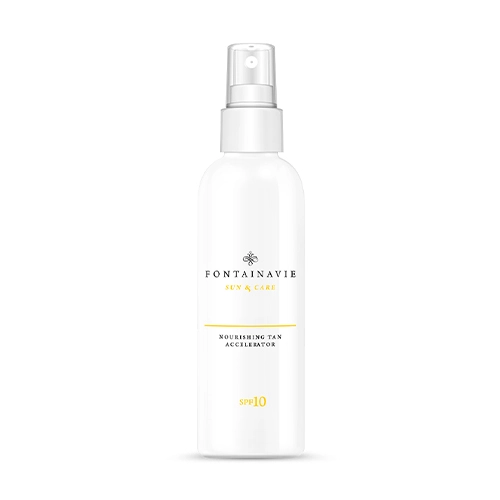 Works as a tan accelerator and nourishes your skin at the same time

contain vitamin E which works as an anti-ageing ingredient.

Contains natural active ingredients

Oily tan accelerator

Suitable for all skin types, including sensitive skin

It can be used on the face and body
Fontainavie tan accelerator successfully rebuilds the epidermal protective barrier because of its excellent biocompatibility. It contains cocoa butter, carrot seed oil and soy phytosterols, which flawlessly hydrate and nourish the skin, enhancing its firmness and elasticity significantly.
Fontainavie Tan Accelerator Review
I think it is totally worth the money. But you need to know first it has an oily texture, so you shouldn't apply a large amount of it on the skin. Otherwise, it will be greasy. Overall, the Fontainavie tan accelerator is suitable for all skin types, including sensitive skin. I recommend it for beginners who want to get a skin tan look fast. It hydrates the skin, and it works as a natural tan when you use it outdoors.
For amateur self-tanners, the FM tan accelerator provides a brilliant gradual solution to achieving a golden glow without added effort – trading bottled fake tan's risk of streaks and waning longevity for just a little time in the sunshine. For experienced sun worshippers, it offers a brilliant, easy-to-apply experience with enhanced aftercare properties.
How does Fontainavie Tan Accelerator work?
Fontainavie Tan accelerator enhances the synthesis of melanin to produce a natural tan. While fake tans use an active substance (often DHA/dihydroxyacetone) to promote a secure chemical reaction within the skin.
Instead of staining the skin with artificial pigment, products like Fontainavie Tan Accelerator work to stimulate the production of melanin – the pigment responsible for the colour of our skin and, ultimately, the golden glow we all know and love. Fontainavie Tan Accelerator works as a beautiful skin colour tone, and it nourishes your skin with natural active ingredients.
It makes your skin look healthier and younger. You will notice that your skin has a delicate appearance. The presence of vitamin E slows down the ageing process, making you appear younger. Additionally, it contains organic active ingredients that improve the health of your skin. It is perfect for your body and face.
You can use Fontainavie Tan Accelerator before sun exposure. And you can also apply it freely and often during your sun tan. Your skin is greatly shielded from the sun by it, so it is safe to use during tanning.
Can you use FM tan Accelerator on a sunbed?
Yes. To get the best results, apply the tan accelerator before going to the sunbed. You can spray FM tan accelerator safely during your sunbed and during direct sun exposure too. It is a great way to look attractive during the holidays coming up!
How do you use a tan accelerator?
Use the spray half an hour before going out into the sun, the sunbed or any other solarium to prolong the duration of the tan accelerator.

If you are preparing for a special occasion or holiday, start using the tan accelerator at least 2 weeks before your occasion to get the best skin tone. This will give you a long-lasting healthy tan.

If you have a dry skin, put moisturiser before your tan accelerator to make sure that your skin is deeply hydrated.

You can apply the tan accelerator once or twice daily if you are going to spend the day at the beach.

The sun during midday is very intense, so we recommend taking breaks to avoid sun damage.

After tanning, don't forget to apply a cooling cream to minimize post-sun irritation.
Is the tanning accelerator worth it?
Yes. the tanning accelerator is totally worth it. The findings demonstrate that tanning accelerators efficiently prolong and intensify your natural tan. Tan boosters have been shown to keep skin in top condition so that you can develop a natural, rich, and golden glow, especially when used in the weeks leading up to a sunny vacation. Check Also: Korean Makeup Spatula
Do you put tan Accelerator on after or before sunbed?
Put on the tan accelerator 30 minutes before going on a sunbed to maximise the benefits of your tan. It will boost your tanning experience making your skin soft and healthy. You can also apply the tan accelerator during your sunbed exposure. Check also: Best acne moisturiser
Conclusion
That's my Fontainavie tan accelerator review. I liked the results of it. Fontainavie tan accelerator perfectly nourishes and moisturises my skin. It works as a 2-in-1 tan accelerator and skin moisturiser. It is suitable for all skin types. Allow yourself at least 2 weeks to notice results as a healthy tan is not easy to achieve. Once you get your healthy tan, it will last for a long time, and you will be very happy with it.
If you have any questions about tan accelerators or want to share your experience with Fontainavie tan accelerator, leave a comment below.
Hello! This is Esraa Sheta, Beauty Editor and Pharmacist. I have been creating product reviews for over 7 years now. All the product reviews for BeautySkinReviews are unbiased. I carefully select the products and rigorously test them to ensure that the reviews are truthful and beneficial to customers. I'm confident that you will discover a wealth of valuable tips and tricks to elevate your skincare routine.