Best eye cream for eczema on eyelids: suitable for all, including sensitive eyes. We did our research to find the best creams to treat irritation and eyelid inflammation.
Ceramides and hyaluronic acids are the most essential active ingredients for treating eczema on the eyelids. We choose creams that have good positive reviews and are also fragrance-free. Keep in mind that stress can make your eczema worse, it is preferable to be prepared during allergy season so you can handle it with being relaxed. Let's quickly review the top 5 eye creams for eczema on the eyelids and the pros & cons of each one.
1. Doublebase Diomed Dry Skin Emollient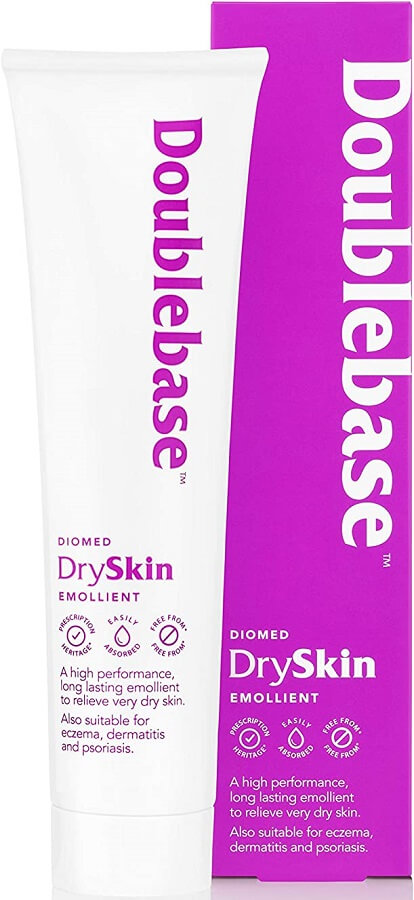 Healing psoriasis

Great moisturising for eczema

Soothing for dry skin

Clinically proven
Doublebase Diomed Dry Skin Emollient is easily absorbed by the skin and not greasy at all. Very hydrating for dry and rough skin. It contains natural oils that form a protective barrier on the skin keeping the moisture locked in. It's possible for people with dry skin disorders like eczema, dermatitis, or psoriasis to lack these organic oils. Which results in dry and flaky skin. It is very effective on eczema on eyelids and suitable for adults, children and babies over 30 days old.
2. Eucerin Eczema Relief Body Cream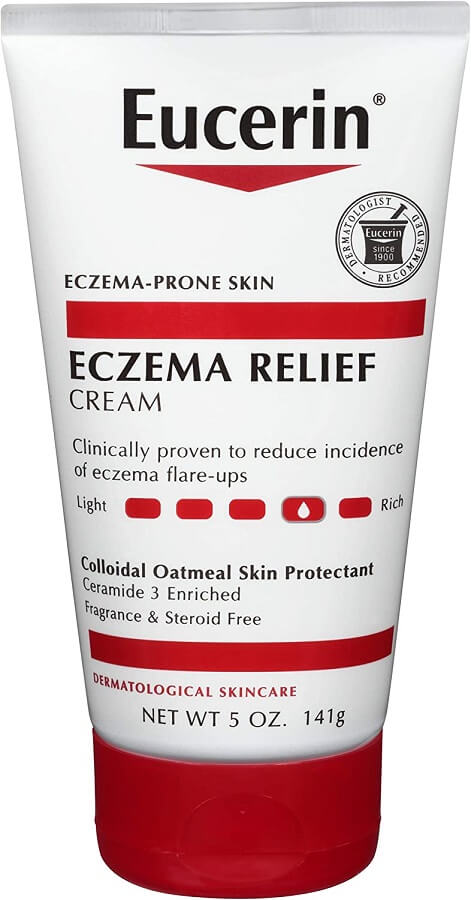 Clinically proven to reduce the incidence of eczema flare-ups

Designed for dry itchy eczema prone skin

Can be used daily
This cream is very soft and not greasy. In my experience, it works well for daily usage and it is great for eczema irritation. But I had to go back to my prescription during a severe flare-up. The main active ingredient is Ceramide-3 which works as a skin protective barrier to lock the moisture in the skin. It also contains colloidal oatmeal which is a natural skin protectant. It relieves dry skin. Completely impressed by this product's efficiency!
3. Ato Cream for Eczema and Atopic Dermatitis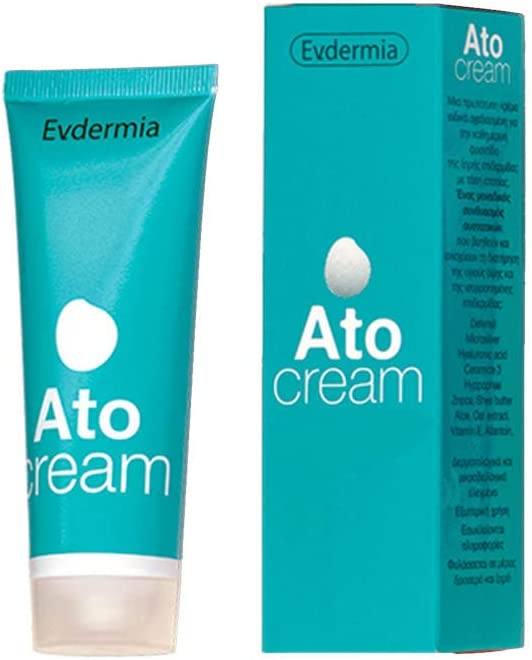 soothes skin from irritations, blemishes, and redness.

suitable for use on all skin types.

Ideal for dry or itchy skin prone to Eczema and Atopic dermatitis

keeps the skin moisturised without making it oily.

suitable for those who may be prone to dermatitis or eczema

Has Defensil, Microsilver, Hyaluronic Acid, Zinc Pea, Ceramide 3, Aloe, Panthenol, Shea Butter, Calendula Oil, Allantoin, and Bisabolol in it.
Oto cream is a great moisturizer for dry skin and skin prone to eczema. Apply twice daily on clean skin. It is great for treating eczema on the eyelids and around the eye. Most people notice results within a month. It is one of the best eye creams for clearing eyelid eczema fast. This cream is worth every penny.
4. CeraVe Eye Repair Cream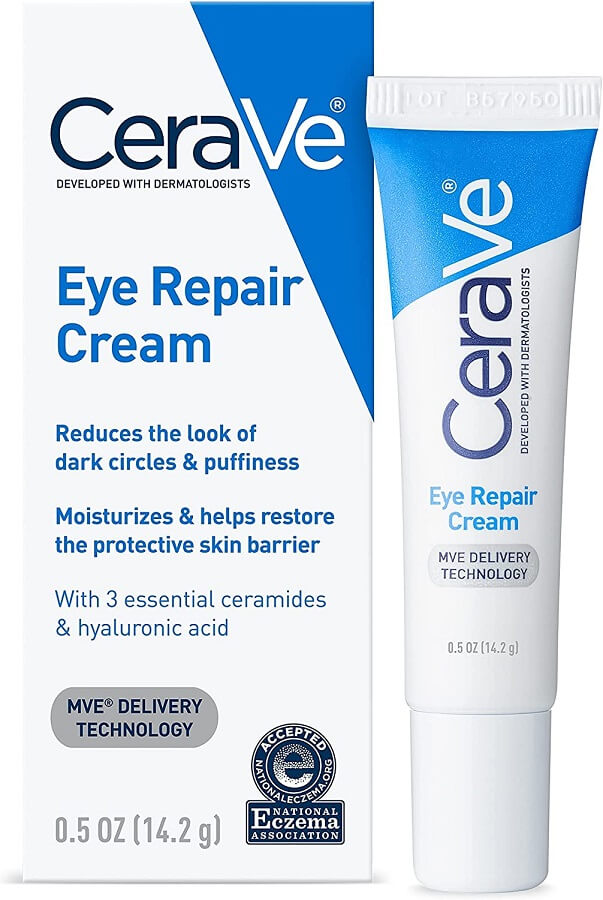 Reduces dark circles and puffiness around the eye.

Suitable for all skin types

Allergy tested

Contains 3 essential ceramides.

Tested and developed by dermatologists and ophthalmologists.
CeraVe eye repair cream feels great and has a soothing effect. It is ideal for all skin types including sensitive skin. It is the best eye cream for eczema on eyelids. I also liked that it is easily absorbed by the skin. It is my favourite OTC cream for eczema and eye irritation. It has been helping me for almost a year and I highly recommend it.
Can Cerave eye cream be used on eyelids?
Yes. you can use CeraVe eye cream on eyelids. Apply a small amount of the cream on your eyelids. Gently smooth the cream until it is fully absorbed by the skin. You can use CeraVe eye repair cream alone or under makeup twice a day. Avoid direct contact with the eyes.
5. XeraCalm A.D Baume

Anti irritant

Age range adult

Designed for dry skin

Suitable for atopic eczema
XeraCalm A.D Baume product is very efficient against eczema and itching. The results are fast and efficient. After cleansing the skin using your favourite cleanser, apply XeraCalm product twice daily to the dry eyelids. Its combination is simple and it is worth trying compared to other products on the market. I highly recommend it.
FAQs
How do you get rid of eczema around your eyes fast?
Emollients and moderate topical steroids are the best treatment for eczema around the eyes. Using emollients hydrates the skin and prevents skin dryness. In many cases, only mild topical steroids (0.5 – 1% hydrocortisone) are recommended for eyelid eczema as the skin on the eyelid is very sensitive and fragile.
Why does my eczema flare up around my eyes?
Atopic, contact and seborrheic dermatitis can all cause eczema flare-ups around your eyes. This might happen as a result of being exposed to irritants or allergies. Additionally, if your skin is very sensitive to the environment, it might be the cause of allergic reactions to irritants.
Is Vaseline good for eyelid eczema?
Yes. you can use Vaseline to relieve dry skin on eyelids. Vaseline is effective in treating eczema flareup on eyelids. However, it is a bit sticky and not all people like it as it is not easily absorbed by the skin.
Check Also:
Conclusion
Any part of the skin, including the eyelids and the area around the eyes, can develop eczema. Adults with eczema elsewhere on the face frequently get eczema on their eyelids. Use eye cream for eczema twice a day to get skin relief fast. Emollients and moderate topical steroids are suggested by the doctor or another healthcare provider for the treatment of eyelid eczema. We discussed the best eye cream for eczema on eyelids.
I hope you found this article helpful. If you have any questions, don't hesitate to ask in the comments below.
Hello! This is Esraa Sheta, Beauty Editor and Pharmacist. I have been creating product reviews for over 7 years now. All the product reviews for BeautySkinReviews are unbiased. I carefully select the products and rigorously test them to ensure that the reviews are truthful and beneficial to customers. I'm confident that you will discover a wealth of valuable tips and tricks to elevate your skincare routine.