Prai Neck Cream Ageless for throat and decolletage: is it worth buying? Does it work? And how to get the best price in the UK? Find out now.
Our neck skin doesn't contain a high percentage of oil-producing pores. That's why you might notice that your neck is dry and ageing faster than your face. Using a neck cream like Ageless Prai cream will make your neck firmer and smoother. It is very efficient and it is as important as using a moisturiser for your face every day. It improves collagen production whilst improving healthy cell renewal. Neck care will ensure that your skin in this area remains taut with ageing.
Prai Neck Cream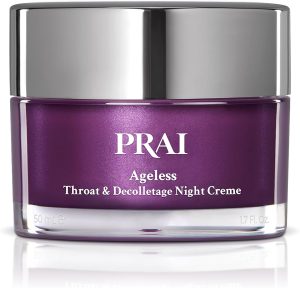 It contains vitamins A, E and F which rejuvenate the ageing

Restores the skin elasticity and improves collagen production

Effective on turkey neck treatment

Cruelty-free and vegan

Paraben free
Prai Neck cream uses Sepilift™ technology to restore skin elasticity and increase collagen production. It contains Grapeseed extract that helps even the skin tone. It is a great product for the adult age range. I have used it for 6 months and feel my neck firmer and smoother. It softens necklines and the texture is very nice.
It is very helpful for treating the ageing signs in the neck. The company claims that you can see visible results after only one week of using the cream. I think you need to use it for at least 2 weeks to make sure it is working for you or not. Most derma treatments take time so be patient and keep doing your treatment care daily to achieve the best results. It also contains hyaluronic acid which helps plump and treat wrinkles. From the first touch, you would feel it is a nice rich cream to try.
FAQs
How do you use Prai Ageless throat and decolletage creme?
Make sure you dry and clean your face before using the cream

Apply a pea-sized amount of the cream on your neck using upward strokes from the cleavage to the chin.

To get the best results, use Prai neck cream twice per day.

Avoid applying the cream directly before going out in sunny days. If you have to use it
Note: at least apply the night cream once every night to keep your skin firm and smooth.
How long does PRAI neck cream take to work?
According to PRAI Beauty, you will notice results in 7 days only. However, the results vary from one person to another. It is a great rich and luxurious cream for neck care. It uses Sepilift™ technology and Hyaluronic Acid to treat double chins, turkey neck, droopy jowls and many other skin concerns.
Is PRAI natural?
It contains natural extracts including grapeseed extract, mulberry extract, saxifrage extract and PRAI extract. However, it is like any other skin care cream, it is not 100% natural as it is done in a synthetic way. It is suitable for vegan and cruelty-free.
What is the ingredient in PRAI?
Prai neck cream contains Sepilift, Hyaluronic Acid, Shea Butter, Squalane, Mulberry extract, Saxifrage extract, Grapeseed extract, Vitamins A, E, & F and PRAI extract.
Prai Neck Cream Reviews in The UK
"Love this product" Sarah – The United Kingdom
A great luxury product. She loves the texture of this cream. It feels so dreamy just the touch of the cream on her skin. She can't decide yet it is working for her or not as she hadn't used it for long.
"It works for me!" Lorraine – The United Kingdom
She loves the texture of this product. It really works for her. Highly recommended!
"Really works" Mia – The United Kingdom
Mai doesn't write many reviews unless the product is very good or really bad. She tried this neck cream for a month and the results are amazing. great value for money, very nice texture and the scent is lovely. She will definitely purchase it again. check also: Best moisturiser for acne prone skin UK
Conclusion
I think Prai Neck Cream has great value for money and I highly recommend it for treating turkey necks and necklines. The skin improvement duration varies from one person to another. Make sure you apply the cream daily as directed to get the best results. Most people notice a difference within two weeks. Some people notice a huge improvement in 2-7 days. It is a little pricey for the amount but it is totally worth the money.
Hello! This is Esraa Sheta, Beauty Editor and Pharmacist. I have been creating product reviews for over 7 years now. All the product reviews for BeautySkinReviews are unbiased. I carefully select the products and rigorously test them to ensure that the reviews are truthful and beneficial to customers. I'm confident that you will discover a wealth of valuable tips and tricks to elevate your skincare routine.