Which cleanser is best for oily skin? How to choose the best cleanser for your face type? Find out now.
I'm Dr Esraa Sheta, I love skincare products and today I'm sharing with you our list of the best cleansers for oily skin in the United Kingdom starting from £2.49. It includes products for very oily skin, sensitive skin and blackheads acne. Choosing the right product for your skin type is very important. Harsh products might cause skin inflammation and dryness. Too much sebum might clog pores and acne. That's why you should cleanse your face daily if you have oily skin using a cleanser formulated for your skin type. If you used oily cleanser, it might make your skin condition worse.
Let's get into the list of products that works well on oily and acne-prone skin according to dermatologists.
13 of the best cleansers for oily skin
1. Vichy Normaderm Phytosolution – Intensive Purifying Gel 200ml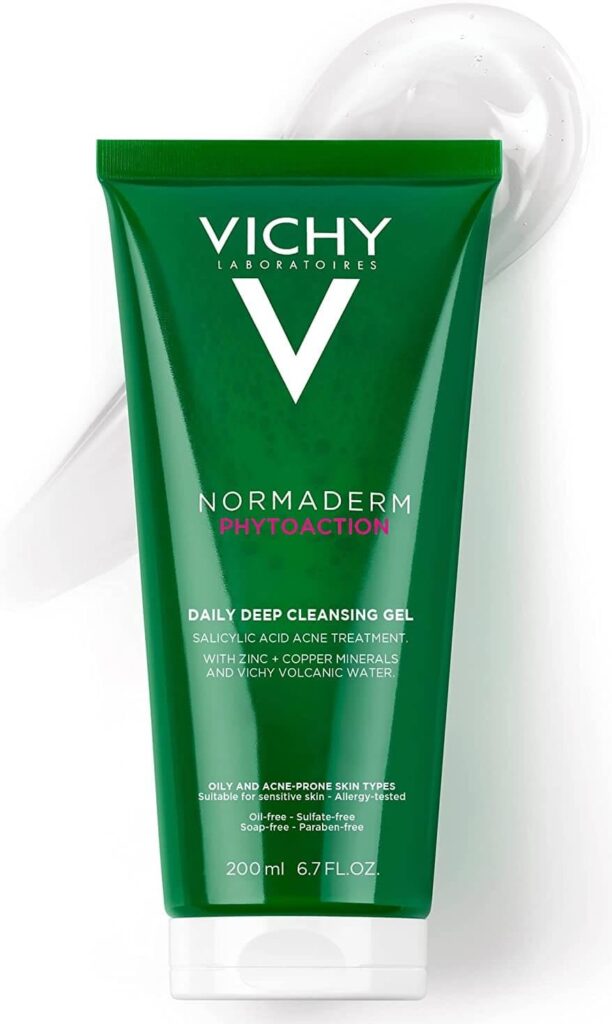 Best overall cleanser for oily skin
Designed for oily skin

Deep cleansing

Key ingredient – Salicylic acid

Non-comedogenic

Very gentle and suitable for sensitive skin
Vichy Normaderm Phytosolution helps decrease acne blemishes, clogged pores, and blackheads by removing excess oil and dirt. It cleanses your face without overdrying and gradually improves skin tone and texture. For best results, apply Vichy Normaderm Phytosolution twice a day in the morning and evening. According to testers, the product has a pleasant aroma and effectively cleans and nourishes the skin. It is the best deep cleanser for achieving a pure and refreshed feeling.
2. CeraVe Foaming Facial Cleanser
Best for sensitive and acne-prone skin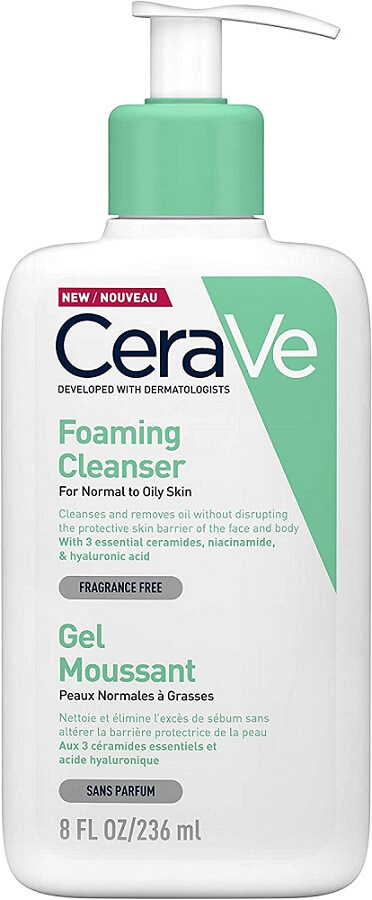 Great for oily and combined skin types

Key ingredient – Niacinamide

Provides 24-hour hydration thanks to the MVE technology

Alcohol-free, fragrance-free

Non-comedogenic
CeraVe Foaming facial cleaner is very gentle on the skin making it suitable for all skin types including very sensitive skin. It has 3 essential ceramides and the main ingredient is Niacinamide. It aids in the rebuilding and regeneration of the skin's protective layer, making it more resistant to future damage and symptoms of ageing. I decided to try it after seeing a lot of TikTok about it and I can say now it actually works!
3. Cetaphil Oily Skin Cleanser
Best for combination to oily-sensitive skin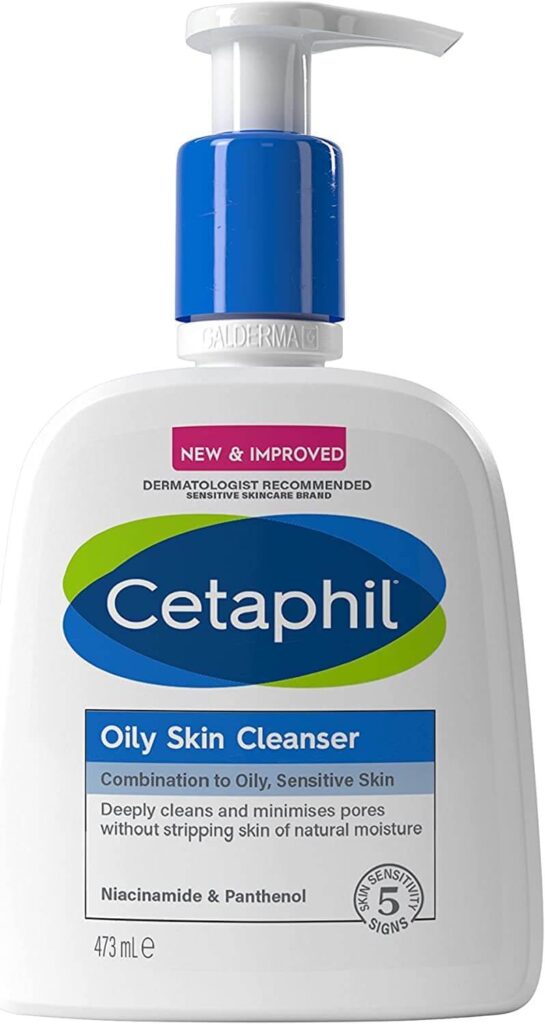 specifically formulated to control excess oil

Key ingredient – Niacinamide (vitamin B3) & Panthenol (pro-vitamin B5)

pH balanced

Non-comedogenic

soap-free and non-irritating; Vegan Friendly
Cetaphil oily skin cleanser works perfectly for combination skin. It removes excess sebum without drying your face out. It is specially formulated to control excess oil and shin which helps in reducing the appearance of blemishes and acne. Testers said it makes their face less oily and this formula is a lot better for sensitive skin. Cetaphil oily cleanser is also formulated to match the natural pH of your skin which can help maintain the skin's natural barrier.
4. Mario Badescu Enzyme Cleansing Gel
Best for rebalancing

Deep cleansing the skin

The key ingredient – Papaya Enzymes

Suitable for all skin types
Papaya Enzymes. Papaya enzymes are naturally exfoliating enzymes obtained from the papaya fruit. They dissolve and break out dead skin cells, revealing a brighter, more even complexion. It balances the skin while reducing inflammation and redness. Besides, it contains ingredients that help to hydrate the skin, leaving it feeling refreshed and moisturized.
5. ELEMIS Clarifying Clay Wash
Best gentle cleanser for oily skin

Deeply cleanse, purify and balance the pH

Gentle skin cleanser

Suitable for oily and combination skin

The key ingredients – Kaolin and Bentonite clay

Fragrance-free
I have to include ELEMIS Clarifying Clay wash in our list of which cleanser is the best for oily skin. It is so good. ELEMIS Products are a bit expensive but they are worth it! ELEMIS Clarifying Clay Wash helps the skin to absorb excess oil, leaving the skin feeling clean and matte. It contains nutritious components including vitamin E and rosehip oil that can moisturise and nourish the skin. You can incorporate it with ELEMIS Apricot Toner for Sensitive Skin for the perfect skincare routine.
6. The Body Shop Tea Tree Skin Clearing Foaming Cleanser
Best clearing foaming cleanser

Has a foaming action

Vega and cruelty-free

The key ingredient – tea tree oil

Fragrance-free
The Body Shop Tea Tree Foaming Cleanser is made of tea tree oil, which has natural anti-inflammatory and antibacterial effects. It soothes and calms inflamed skin while also reducing the appearance of pimples and acne. The foaming action helps to remove impurities and reduce oil leaving the skin refreshed and pure. Besides, the brand is known for their ethical sourcing of ingredients. It doesn't overdry the skin and the testers love it.
7. Neutrogena Ultra Gentle Hydrating Daily Facial Cleanser
Best for sensitive skin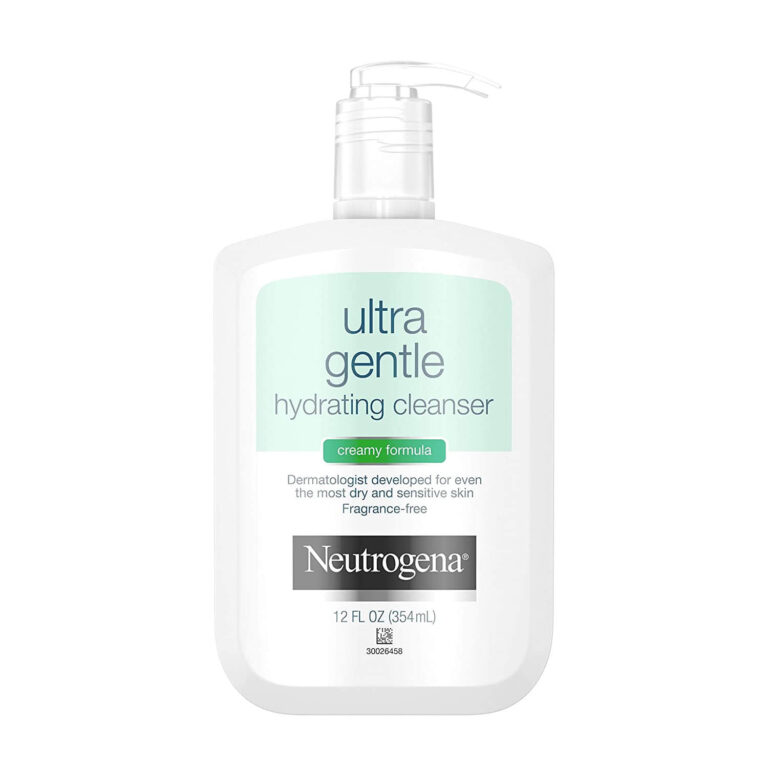 The key ingredient – glycerin

Free of alcohol, parabens, fragrance and dyes

Designed for sensitive skin

Non-Comedogenic
Neutrogena Ultra Gentle Hydrating Daily Facial Cleanser is clinically proven to be gentle on sensitive skin. It really helps with hydrating and moisturizing the skin. It leaves the skin soft and smooth. What I also liked about this formula it doesn't contain harsh chemicals. I think it has great value for money and I highly recommend it.
8. La Roche Posay Effaclar Purifying Foaming Gel
Best for oily skin

The key ingredient –

Salicylic Acid

Has a foaming action

Suitable for oily and combination skin types

Non-Comedogenic
La Roche Posay Purifying Foaming Gel is highly recommended to regulate oily skin. It contains salicylic acid which unclogs pores and removes excess sebum and dead skin cells. You can also use it for total makeup removal. It has a good price for the size of 400ml compared to other cleansers on the market.
9. Neutrogena Visibly Clear Pink Grapefruit Foaming Cleanser
Best for minimising the look of pores

For clear, fresh and healthy-looking skin every day

The key ingredient – pink grapefruit extract

Deep cleanser

Has a foaming action

Uses powerful micro clear technology

Non-Comedogenic

Developed with dermatologists
For oily skin, a foaming cleanser is always a good choice. It aids in the removal of pollutants and excess oil. Neutrogena Visible clear pink cleanser cleans and freshens the skin while also minimising the appearance of blemishes and acne.
10. Bioderma Sebium Purifying Foaming Gel
Best for Sensitive, Acne Prone

The key ingredient – Fluidactiv, a sebum-regulating complex

Purifying and regulating sebum

Gentle cleansing

Non-Comedogenic
After the first use, you would feel refreshed. It clears the skin and minimizes the pores. I loved that it is suitable for sensitive and acne-prone skin. My skin is very sensitive and gets irritated easily with cleansers. I noticed it has a nice smell and doesn't bother my skin at all. Apply Bioderma Sebium foaming gel to wet skin then rinse. You can use it twice a day. It also can be used as a shaving foam.
11. Super Facialist Anti Blemish Purifying Cleansing Wash
Best for spot treatment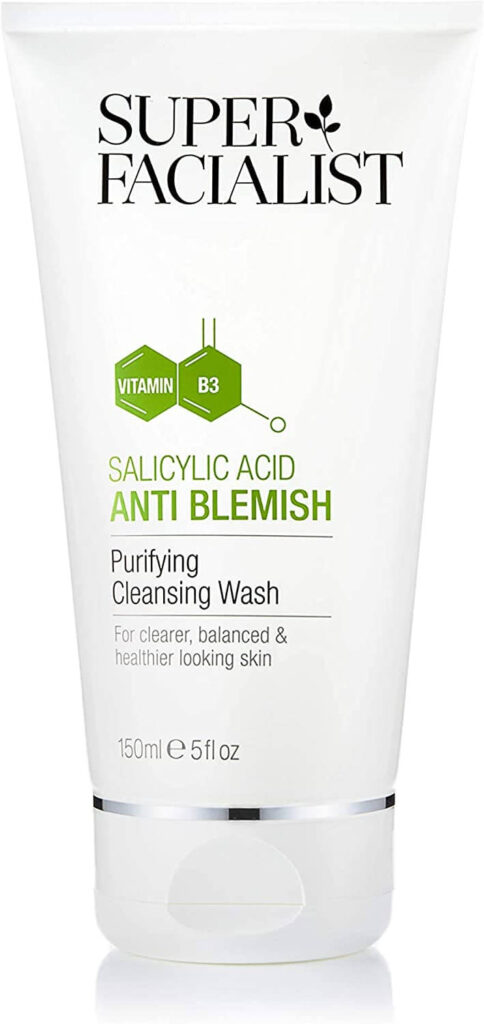 deeply unclog pores

reduces inflammation and redness

The key ingredient – salicylic acid

Formulated and made in the UK

effective treatment against spots, whiteheads & blackheads

Non-Comedogenic
The Super Facialists Anti-Blemish face wash helps to cleanse and thoroughly clean congested skin of daily impurities and excess oils without causing irritation or dryness. Super Facialist is a British-born skincare brand that has been professionally designed by a team of dedicated skincare specialists with many years of beauty industry experts. To give you that facialist experience, Super Facialist blends high-performance scientific chemicals, natural extracts, and exquisite scents. Every single day.
12. Creightons Salicylic Acid Foaming Clay Cleanser
Best for Deep Cleansing

leaves the skin feeling clean and refreshed.

The key ingredients – Salicylic Acid and Niacinamide

Contains Kaolin Clay and lactic acid

Non-Comedogenic
The 2 key ingredients help improve an uneven skin tone and texture. It reduces blackheads and clears pores. Many testers said it improves hormonal acne thanks to the salicylic acid that helps spots. The results vary from one person to another. Many women noticed improvement after using Creighton salicylic acid cleanser for one week. Overall, it is very effective for deep cleansing your skin. It is one of the best cleansers for oily skin as it removes excess sebum leaving your skin smooth and clear.
13. Nip + Fab Exfoliate Facial Cleanser
Best for Exfoliating Skin

Deeply exfoliate the skin

Key ingredients – Glycolic acid and Salicylic Acid

Cruelty-free and vegan

3-IN-1 micro exfoliant

1% Salicylic acid

Helps with open pores, blackheads and blemishes
This Nip + Fab exfoliator is very powerful. I recommend using it 1-2 times per week to exfoliate your face. If you have lots of miniature bumps, this product will help you fight acne by removing dead skin cells and impurities through chemical exfoliation from glycolic acid. The scrub texture has mechanical exfoliation. It has 1% salicylic acid, which makes your face bright and let it breathe. It's an extreme and more potent version of their best-selling Glycolic Fix Scrub.
Check Also: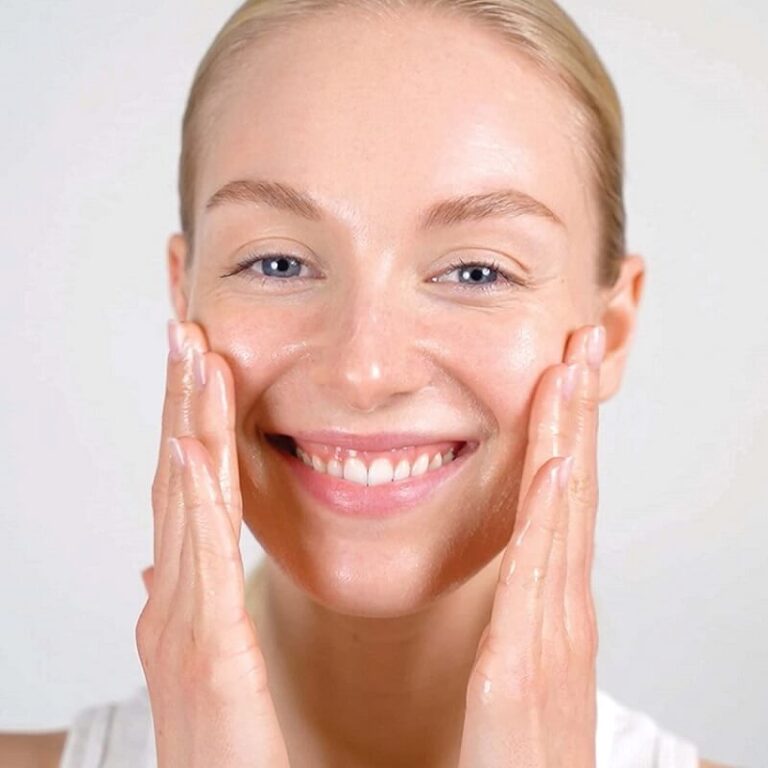 FAQs
How often to wash oily skin?
The frequency of washing oily skin is a personal preference, and it also depends on your skin type. Some people, wash their face twice a day, while others wash their face only once a day. It is generally recommended to wash your face twice a day. Wash your oily face once in the morning and once in the evening using a cleanser designed for oily skin type. If you have sensitive skin, using the cleanser once a day is efficient.
Using a cleanser daily removes impurities and excess oil that have built up on the skin throughout the day. If you apply makeup, using the cleanser at night will help you remove makeup and dirt.
It is essential to use a gentle, non-comedogenic cleanser and to avoid over-cleansing since this can strip the skin of its natural oils and cause an overproduction of oil, which can aggravate oily skin.
Is it okay to have 2 cleansers?
It is perfectly fine to use two different cleansers as part of your skincare routine, depending on your skin type and concerns. Using two different cleansers can help you target specific issues or concerns you may have with your skin.

For example, in the morning, you could use a foamy cleanser to remove impurities and excess oil, and in the evening, you could use a cream or oil-based cleanser to remove makeup, debris, and pollution.
Conclusion
Now you know which cleanser is best for oily skin, depending on your skin type. Managing acne and oily skin requires consistent effort and patience to maintain your skincare routine. It's important to continue caring for your skin even after you see improvement, as discontinuing skincare products can cause the condition to worsen over time. Remember that achieving clear, healthy skin takes time and consistent effort.
Hello! This is Esraa Sheta, Beauty Editor and Pharmacist. I have been creating product reviews for over 7 years now. All the product reviews for BeautySkinReviews are unbiased. I carefully select the products and rigorously test them to ensure that the reviews are truthful and beneficial to customers. I'm confident that you will discover a wealth of valuable tips and tricks to elevate your skincare routine.