Red light therapy has many benefits for our skin. It prevents skin ageing, wrinkles, acne, fine lines and more.
Red light therapy is also known as photobiomodulation or low-level laser therapy. Basically, red light therapy at-home devices use 600 to 900 nanometers of light to heal our skin and improve its texture. Using red light at home is great and handy for people who have busy schedules.
When searching for a good LED light therapy device, you should consider its durability, design, and comfort. I reviewed the best red light devices and the reviews of dermatologists online to give you this list of the best at-home LED light kits that actually work.
Top Red Light Therapy at Home Devices
1. Beurer IL50 Infrared Heat Lamp
Best for All Body Areas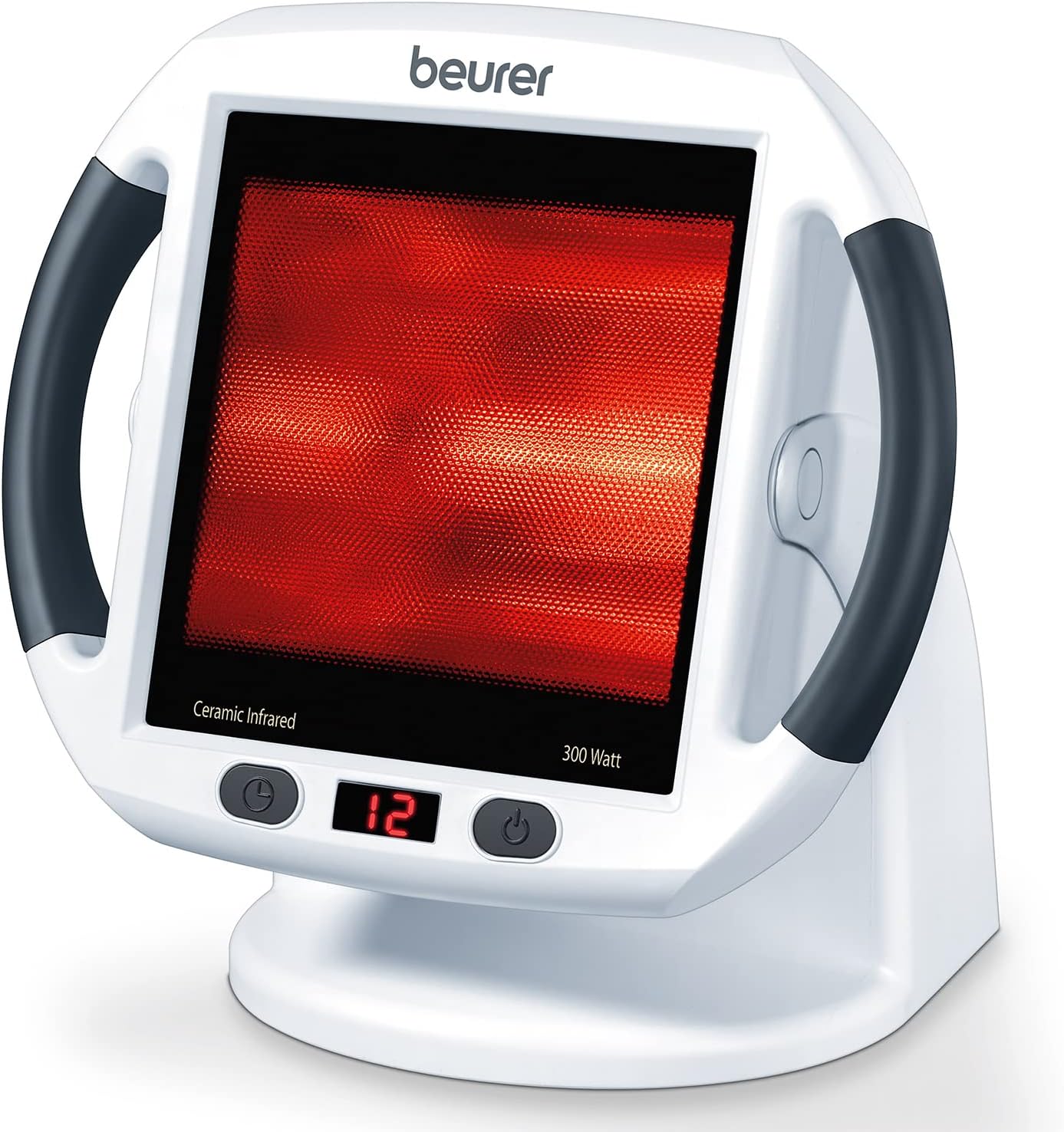 Beurer IL50 Infrared Heat Lamp is great for pain relief and increasing blood circulation. It can be used for small and large body areas to reduce chronic pain and relax muscle tension. I find it very easy to use thanks to its convenient controls with easy turn On/Off switch. It has a tilt angle to direct the LED light to the area you want to treat. Beurer has many LED light therapy, and I love all the products I tried. I find the IPL50 model has great value for the money and the quality of the device.
Price at time of publication – £78
Treatment Area

– for treating large areas of the body

Treatment Time

– adjustable from

1 to 15 minutes.

Can be used for

– it relieve muscle pain, supports the healing process, and improves blood circulation.

Treatment Surface

– 30x40cm ceramic glass plate
2. Foreo Ufo 2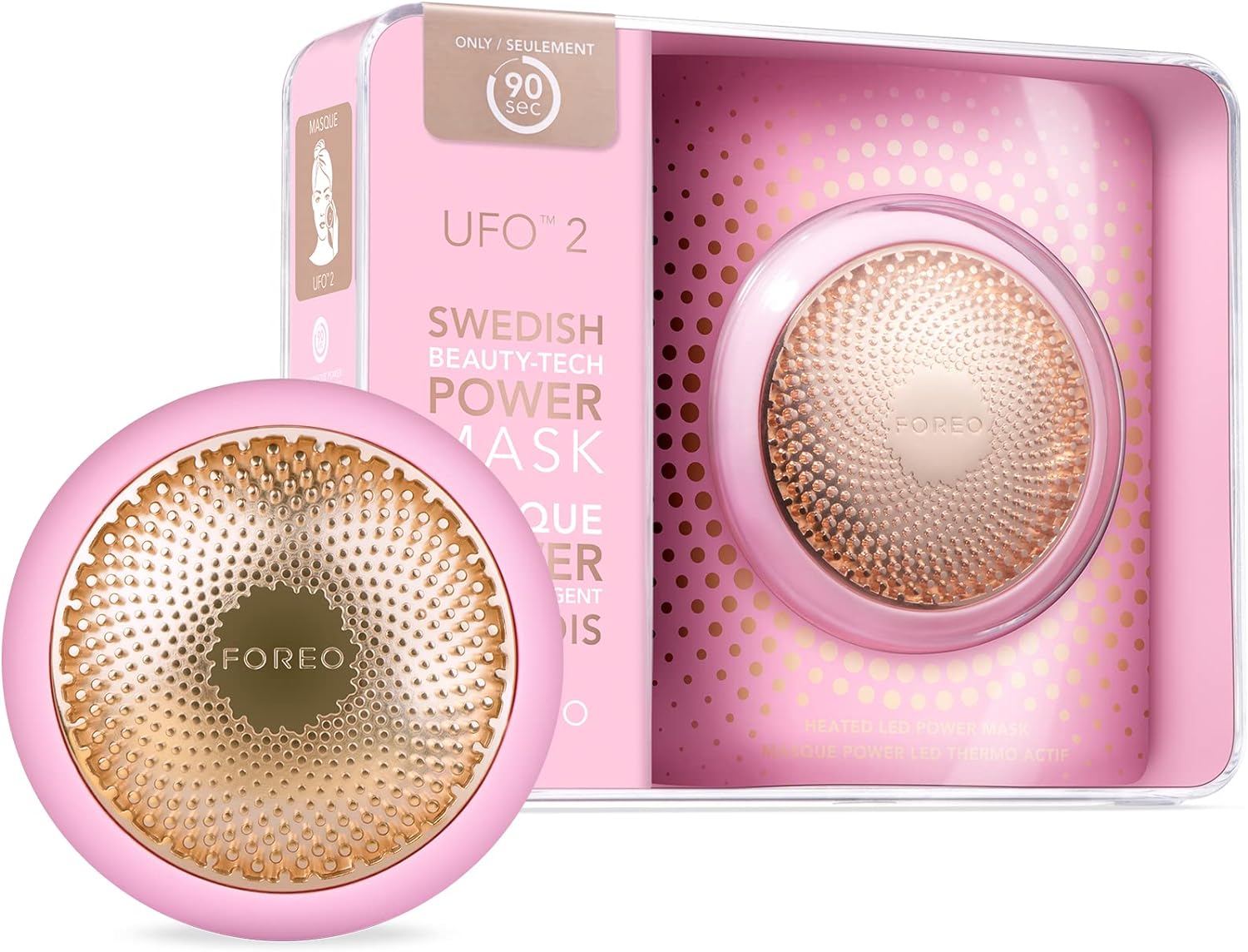 Best for Skincare
Foreo Ufo 2 is designed for moisturising the face and increasing the absorption of skincare products. The curved design makes it perfect for all face areas. It has many different colours, choose the one you like. My favourite is pink in colour; you can use Foreo Ufo 2 daily with no issues. The Foreo UFO 2 has T-sonic pulsations and LED light that improve the skin texture, prevent wrinkles, and effectively lock in moisture. I felt my face breathe after using this lovely product for 2 weeks. The downside of Foreo Ufo 2 is that it doesn't come with a face mask or serum. You may get Foreo face masks to get the best results or use them with your favourite skincare moisturisers and serums you have.
Price at time of publication – £279.
Treatment Area

– Face & body

Treatment Time

– 90 seconds

Can be used for

– Anti-aging dryness, increased skincare product absorption and improved skin texture.
3. CurrentBody Skin | LED Light Therapy Mask
Best for Anti-ageing and Wrinkles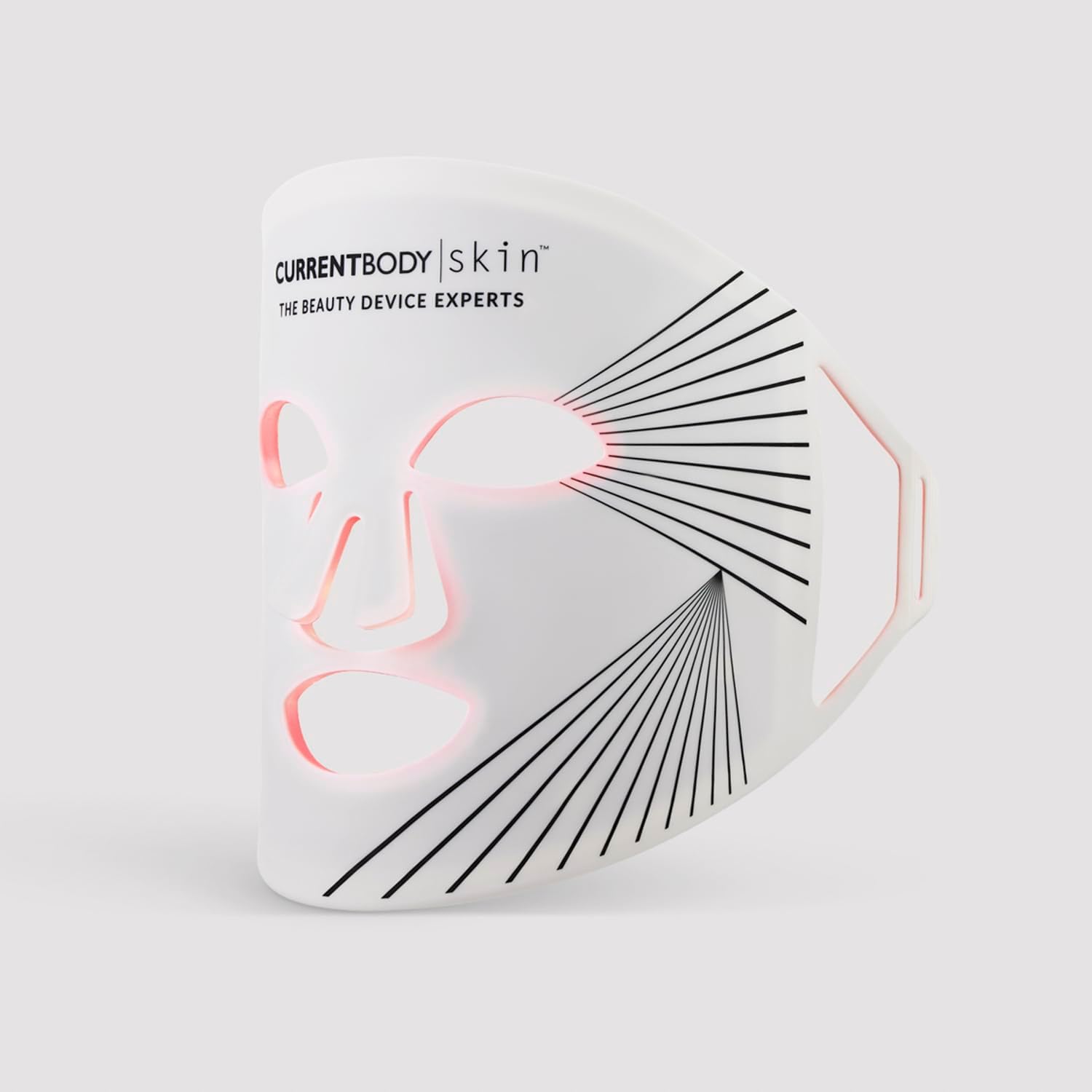 Price at time of publication

– £299

Treatment Area

– Face

Treatment Time

– 10 minutes

Can be used for

– anti-ageing, improves skin tone, reduces fine lines and makes the skin firmer and brighter.
You might think that wearable LED devices are overhyped; wait until you try the LED Light Therapy Mask. it is made of patented flexible silicone that wraps perfectly around the face. Testers felt their skin looked much better after using it for 4 weeks. You should use 3-4 times per week to make your face firmer and smoother using near-infra-red therapy.
4. HELIOS 2 Series Red Light Therapy Device
Best for Sleep Therapy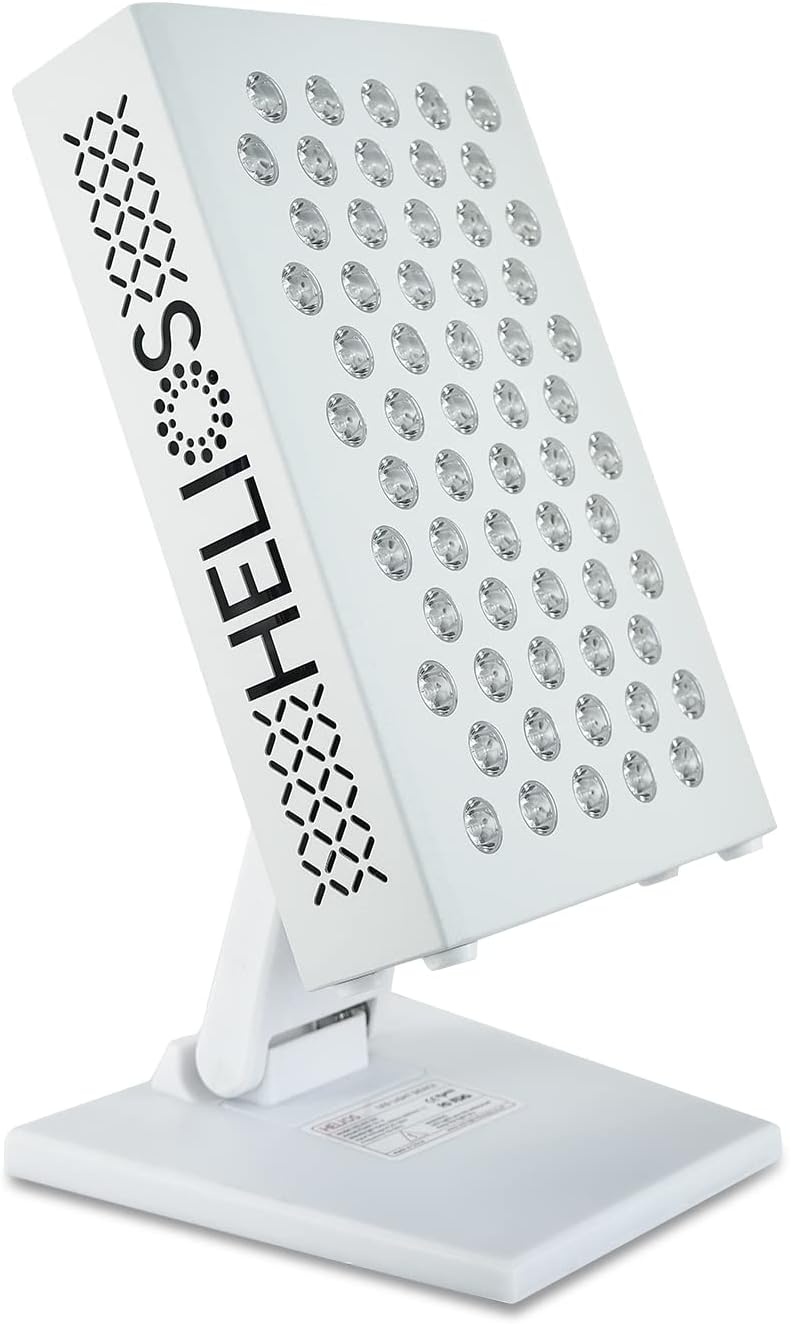 Price at time of publication

– £200

Treatment Area

– full large body areas

Treatment Time

– 10 -15 minutes

Can be used for

– pain, skin improvement, antiaging and sleep therapy
HELIOS 2 Series is a professional Red light therapy device which can be used for all body areas. It has 300W of deep red and infrared light with dimensions: 60 x 5w high power LEDs. it can help you improve your sleeping quality when you use it in the evening before sleeping. Testers noticed an improvement in healing and reduction of pain after using this LED light therapy device daily. It is very easy to use in various positions, and moreover, it is made in the UK and has 3 3-year warranty included.
5. Serfory Red Light Device, Handheld Cold Red Light Device
Best for Pain Relief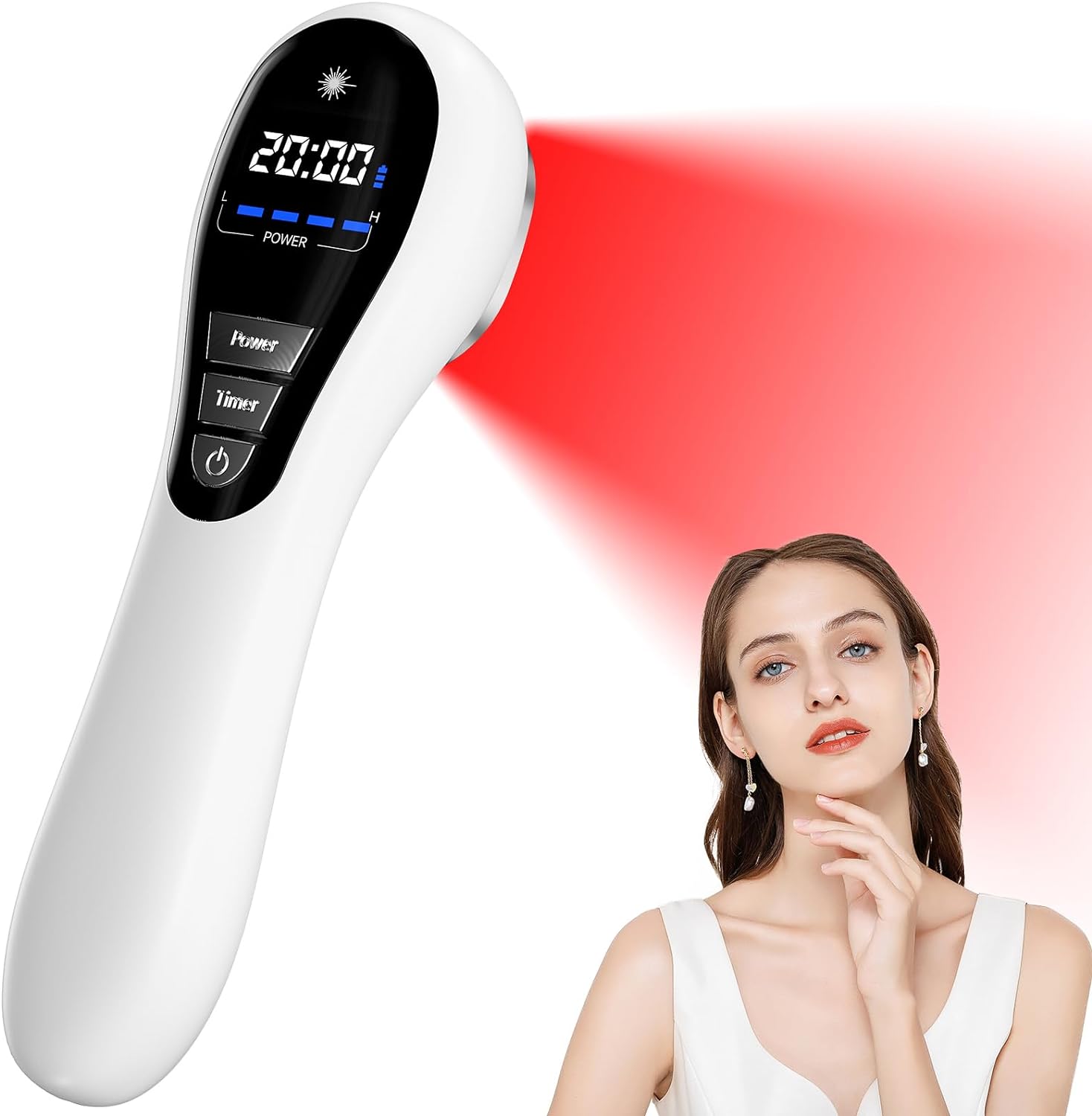 Price at time of publication

– £123

Treatment Area

– Joint, Knee, Shoulder and Muscles

Treatment Time

– 15-20 minutes each time.

Can be used for

– relief of joints, Arthritis and it is also very helpful for pets.
Do you do sports regularly and looking for a red light therapy device that can reduce your pain and improve your performance? Serfory Red Light Device has a red light meter that uses two specific wavelengths of red light, 660nm and 808nm. The skin's surface absorbs the red light with a wavelength of 660nm, while the near-infrared light with a wavelength of 808nm can penetrate the deepest layers of the skin. You can easily adjust the timer (5/10/15/20 minute timer) and energy levels ( L1, L2, L3, and L4) according to your preferences. You can use the LED light therapy device pre-workout to improve your performance or after a workout to increase muscle strength and induce healing quicker.
Surprisingly, this device is not only suitable for humans. You can use it to improve the overall health of your dog or cat, too!
How We Tested?
In order to choose the best red light therapy devices for home use in the UK, we researched multiple devices from top-rated brands by customers online from different stores. We also went global in our search to find the best LED light therapy devices for each category. We included in our list improvement for multiple skin conditions, including wrinkles, skin discolouration, fatigue, back pain, hyperpigmentation and more. At BeautySkinReviews, we tested each device and did a lot of research to determine the durability and ease of use of the devices we mentioned.
Why Trust BeautySkinReviews?
Esraa Sheta is a pharmacist and beauty editor, I have reviewed various beauty and personal care products for the past 10 years. I spent the last 4 months searching the market for the best red light therapy devices and interviewed dermatologists for LED light therapy applications and uses. I attested to some of the products mentioned. All the products have +4 stars online reviews of actual customer purchases.
FAQs
What Is Red Light Therapy?
Red light therapy is also known as photobiomodulation or low-level laser therapy. It is about using infrared with 600 to 900 nanometers to heal the skin. It is a non-invasive treatment that stimulates the healing and rejuvenation of the body cells and tissues. The red light therapy utilises infrared light to penetrate the skin and improve blood flow, reduce skin inflammation and improve cellular energy production.
What are the Benefits of Red Light Therapy?
One of the primary applications of red light therapy is in skincare and anti-ageing, as studies show that it boosts collagen production, reduces fine lines and uneven tone and improves skin appearance. This treatment benefits people with muscle pain, joint pain, and arthritis.
Moreover, you can use red light therapy for pain management and muscle recovery. That's why many footballers get red light therapy for rapid recovery from injuries, decreased soreness, and reduced fatigue. Athletes can benefit from red light therapy pre-workout to reduce fatigue and improve overall performance. They have red light therapy after workouts to reduce inflammation and increase lactate levels.
Conclusion
While using red light therapy at home shows amazing results, regular in-office red light therapy may be more effective for treating potent skin conditions which need the help of a specialised doctor. LED light therapy used in clinics is generally stronger than at-home LED light devices. Overall, red light therapy is easy to use and painless. They help address many health and cosmetic concerns. There are many attractive options for individuals seeking a youthful appearance and at-home approaches to improve overall health. You can also incorporate Best Eye Massagers with Heat into your personal skincare routine to reduce eye stains and relief headaches.
Hello! This is Esraa Sheta, Beauty Editor and Pharmacist. I have been creating product reviews for over 7 years now. All the product reviews for BeautySkinReviews are unbiased. I carefully select the products and rigorously test them to ensure that the reviews are truthful and beneficial to customers. I'm confident that you will discover a wealth of valuable tips and tricks to elevate your skincare routine.