Top-rated eye massager with heat according to experts and customers' reviews. Our list is suitable for all budgets, including luxury products and budget-friendly eye-heating devices.
According to studies, eye problems are becoming more and more common. The prolonged hours spent in front of a computer are the primary source of these serious issues. Long-distance travel, reading, late-night studying, migraines, excessive screen time, little sleep, etc. All of these things can cause dry eyes and visual issues.
Best Eye Massagers According to Experts
1. RENPHO – Eye Massager with Remote Control & Heat
The best overall eye heat massager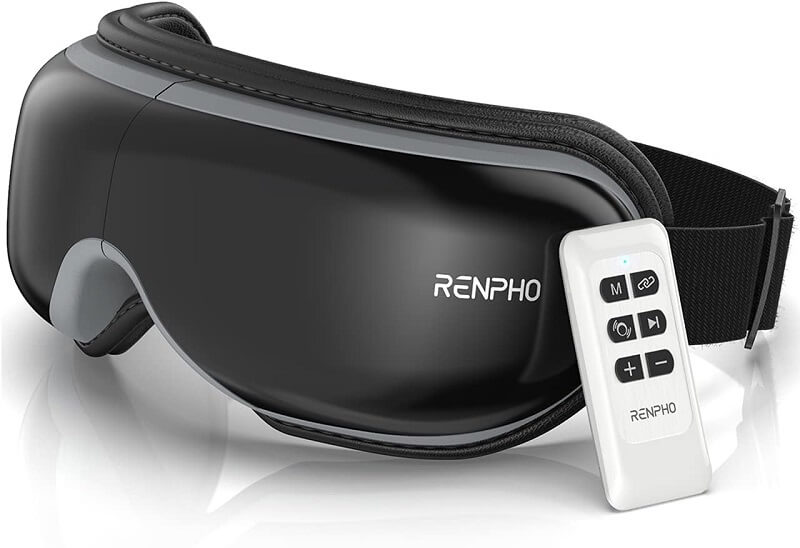 Relieves eye strain and fatigue

Improves blood circulation

Heat compression – provides a comfortable temperature of 104℉-107℉ (40℃-42℃ ),

5 treatment modes

Music therapy – built-in speakers and prerecorded sound enhance relaxation.

Vibration massage

Rechargeable battery

Lightweight, 180° Adjustable and portable design

Charges in 2-3 hours

Works for 60-120 minutes

Product dimensions 20L x 14W x 11H centimetres

Trusted well-known high, quality brand
Maximize the wellness of your ee using this comfy product from RENPHO. It relaxes eye straight and treats eye puffiness and dryness. It is made of durable PU leather and has been tested by SGS without any harm to the human body. The PU leather is very easy to clean and soft on your eyes. You can personalize your massage experience by choosing your perfect massage mode from:
Vibration + Music

Compression + Heat + Music

Compression + Heat + Vibration + Music

Compression + Music

Heat Only
2. Eyeris View Eye Massager with Heat and Vision Window
The Best for dark circles and improving sleep quality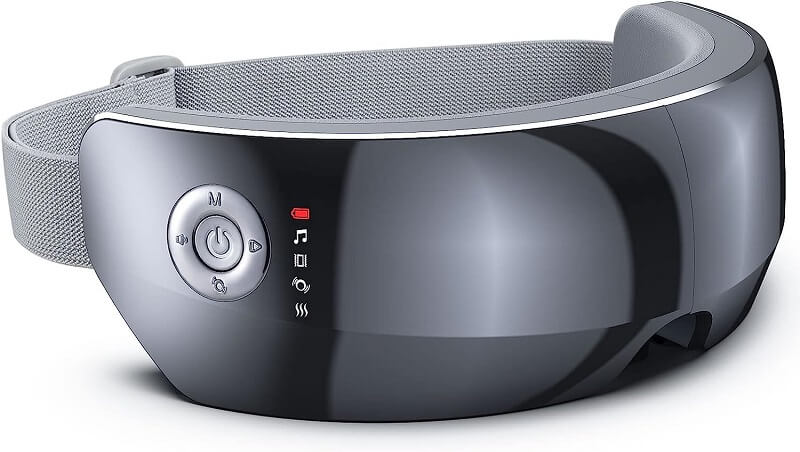 Has vision window

Heat compression – between low heat 102℉ -106℉ or high heat 106℉-110℉.

Music therapy – built-in speakers and prerecorded sound enhance relaxation.

Has voice broadcast and silent mode

5 treatment modes

Lightweight and foldable

Sleek & Mirrored Shell Design

Rechargeable battery

Charges in 3 hours and works for 1 week of moderate use
No need to visit an expensive facial masseur having your own massager at home. This product from RENPHO has an eye vision option so you can answer your calls, check your phone, watch TV or eat during your eye relaxation session. You can also connect it to your mobile phone to listen to your favourite music through the eye massager. It is very easy to clean and made of skin-friendly cruelty-free protein leather. It is suitable for all skin types, including very sensitive skin.
Note: The company doesn't recommend using this device if you have undergone an eye operation like retina condition, cataract, glaucoma etc.
3. MAIRDI Eye Massager with heat
Best for stress relief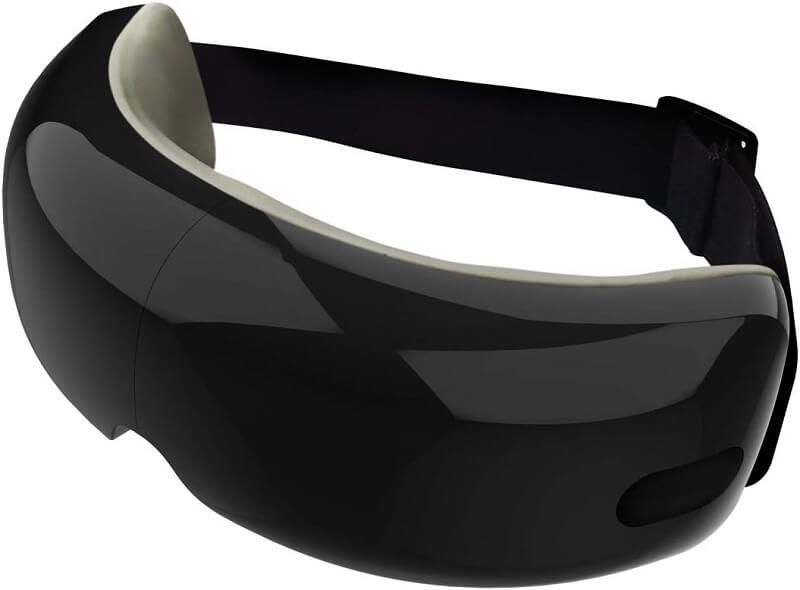 5 treatment modes

intelliegnt airbag compression

Lasts for 6-8 days, for 15-minute sessions

Portable and foldable

Suitable for all ages and genders

Finger-pressing acupoint massage to activate optic nerve and release fatigue

Comes with a 1-year warranty
This product helps with stress relief and migraines. It uses heat therapy to improve hypodermis blood vessel dilatation and relax eyes. However, it is not suitable for sleeping in it as it is a bit loud.
4. RENPHO Eye Mask with vibration
Best for pain relieve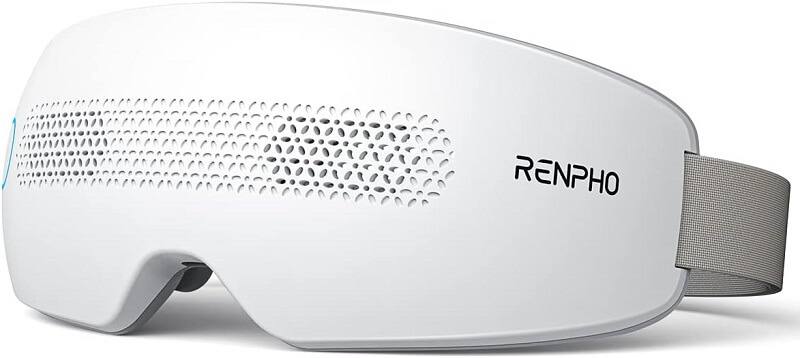 It helps you relieve your sore eyes and relax

Has window vision

4 treatment modes

Music therapy – built-in music

Charges in 2 hours and works for 180 minutes

Lightweight and portable
This model doesn't include heat. It is made of 16 vibration massage silicone heads. it simulates the manual massage method, point-to-point accurately positions and kneads the acupoints without squeezing your eye. Using this device after a long day of work will change your mode. It is very comfortable to enjoy this entertainment at home. RENPHO Eye Mask with vibration has an elastic adjustable headband to fit most head sizes, including teenagers. And to save effort, it has 10 minutes auto shut off. If you are looking for a relaxing eye massager that feels good to use, this eye massager with vibration will really help.
5. DR.PREPARE Heated Eye Mask
Best for low budget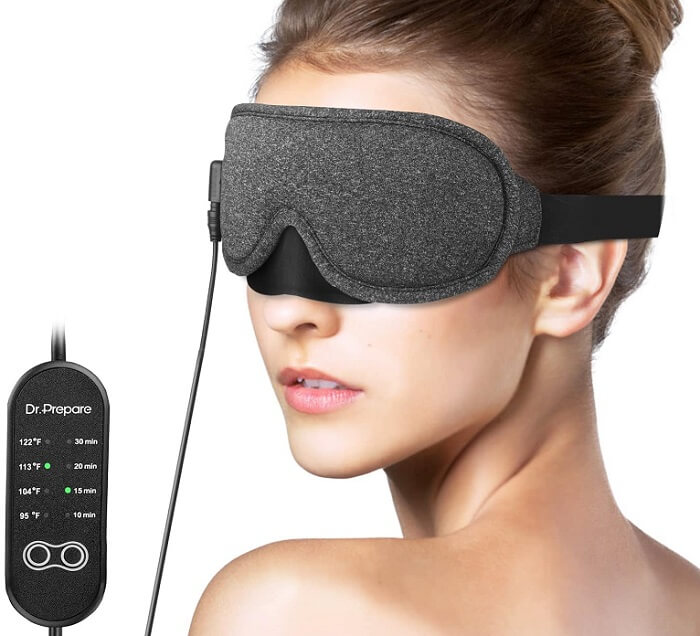 4 heat levels from 95°F with up to 122°F

4 timer settings

automatic shut-off from

Easy to clean

Easy to use
This heated eye mask is very lovely. It relaxes our eyes and is very comfortable to wear. You can use it during camping and travelling to help you sleep. The pad warms up quickly and is suitable for all skin types, including sensitive skin. I find it well-designed and has great value for money, considering its price.
Eye Massager with Heat FAQs
What are the benefits of heated eye massage?
Relief of eye strain and fatigue

– Heated eye massage can help to soothe tired and strained eyes, which can be caused by prolonged use of mobile, PCs, reading for a long time, or driving for long distances.
Improve blood circulation – The warmth of the eye massages with heat can help increase blood flow to the eye's area, which can help to reduce puffiness and dark circles.
Relaxation and stress relief – By stimulating various acupuncture points (Guanzhu / Sizhukong / temple / Chengqi / Jingming) the entire eye area relaxes. The gentle massage motion of the heated eye massager can help to relax your eye muscles and promote a feeling of calmness and relaxation.
Dry eye relief – The heat can also help stimulate the production of natural oils in the eyes, which can provide relief from dry eyes and reduce the need for artificial tear drops.
How Long Should You Use An Eye Massager?
In general, Massage for 15 minutes a day to feel relaxed and comfortable. It changes the mood from the first application. The length of time you should use an eye massager may vary depending on the specific device and your personal preferences. Check your eye massager user manual to know the recommended usage duration for each massage session.
How do you clean an eye massager?
It depends on your eye massager model. Read the user manual to learn exactly how to clean your eye massager properly without affecting its efficacy. Here are the general instructions for cleaning the eye massager:
1. Turn off the device and unplug it from the power source.
2. Use a soft, damp cloth to wipe the exterior of the device, taking care not to get any water or moisture inside.
3. If the device comes with removable pads or covers, remove them and clean them separately according to the manufacturer's instructions. Some may be machine washable, while others may require hand washing or gentle cleaning with mild soap.
4. If there are no removable pads or covers, use a clean cloth or cotton swab dipped in a mild soap solution to gently clean the massage nodes or rollers. Avoid using harsh chemicals or abrasive cleaners that could damage the device.
5. Rinse the massage nodes or rollers with clean water and then wipe them dry with a soft cloth.
6. Allow the device and any removable parts to air dry completely before using them again.
Do eye massagers help you sleep?
Yes. Eye massagers can indeed help improve sleep quality for many people. If you have insomnia because of a minor eye injury or eye stain, an eye massager may be worth considering. Massaging your eyes can help alleviate discomfort and promote relaxation by reducing eye fatigue that comes from digital eye strain, according to the Centre for Sight.
Conclusion
RENPHO Eye Massager with remote control and 5 modes is the best overall eye massager. It helps improve sleep, reduce pain, reduce eye strain, dark circles, bags and many eye issues. This product is very easy to wear and portable for travel. It also comes with music for relaxation. Use the eye massager at least once a day, and it will definitely make you calm and relaxed.
Hello! This is Esraa Sheta, Beauty Editor and Pharmacist. I have been creating product reviews for over 7 years now. All the product reviews for BeautySkinReviews are unbiased. I carefully select the products and rigorously test them to ensure that the reviews are truthful and beneficial to customers. I'm confident that you will discover a wealth of valuable tips and tricks to elevate your skincare routine.