Retinol is Nu 1 advised skincare ingredient by dermatologists for treating skin discolouration and Keratosis Pilaris and improving skin texture and hyperpigmentation.
Retinol is the most famous and ancient ingredient for ageing signs treatment. It is the most trending ingredient now on YouTube and TikTok, and I'm here to tell you that it actually works! The journey might be so easy, and it has phases, but the results are real. It is a very powerful ingredient, and it is formulated in serums, creams and lotions for the body and face. Today, we will focus on the best retinol creams for the body that are suitable for all skin types.
We have discussed the best retinol creams for each category and their differences. This guide will focus on retinol for the body to help you choose the best retinol hand cream for your skin type and needs. The list includes retinol treatments for arms, hands and whole body to keep your skin smooth and glowy.
1. Medix 5.5 Retinol Cream
Best Retinol Cream for Even Skin Tone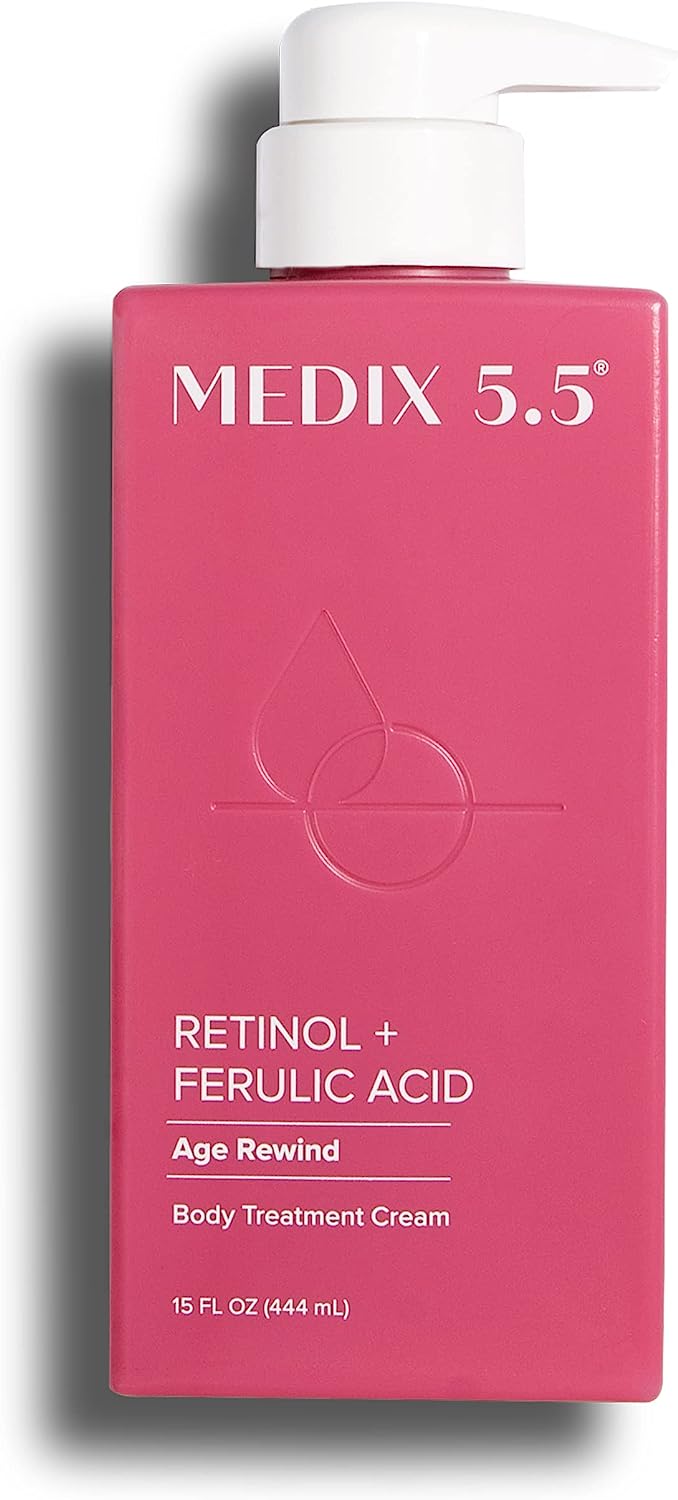 The skin on your hand is thinner than what's on your face. That's why using a retinol formula designed for the body is much better to avoid skin irritation. Medix 5.5 Retinol Cream improves the look of deep wrinkles, fine lines and sun damage. It also enhances skin turnover and increases collagen products. This makes the skin look younger and firmer. It has anti-ageing ingredients with natural antioxidants that make the skin glowy and feel like glass skin. Medix 5.5 Retinol Cream also contains other great natural ingredients which keep the skin well-hydrated and protected.
Exfoliate and prepare your skin first, then apply this retinol cream. It works as both a retinol antiwrinkle treatment and a moisturiser.
Size

– 444 ml

% of retinol

– not disclosed

Other key ingredients

– Chamomile, green tea, lactic acid, rosemary and vitamin a
2. Retinol Advanced Firming Hydrating Cream
Best Firming Retinol for Hand & Body
This Advanced Clinical Retinol Cream contains 0.45% – 1.05% retinol, which makes it great for sensitive skin. I attested it, and it made my skin look glassy and my hands well-hydrated, too. You can use it for all body areas as you wish every night to notice a real difference within 4 weeks. What I also liked most about this product is its great value for money. I bought it for £15.35, which is relatively cheap for a 16 OZ retinol hand cream.
Size

– 16 OZ

% of retinol

– 0.45% – 1.05%.

Other key ingredients

– Chamomile, green tea and hyaluronic acid
3. CeraVe Anti Aging Retinol Serum
Best for Retinol Starters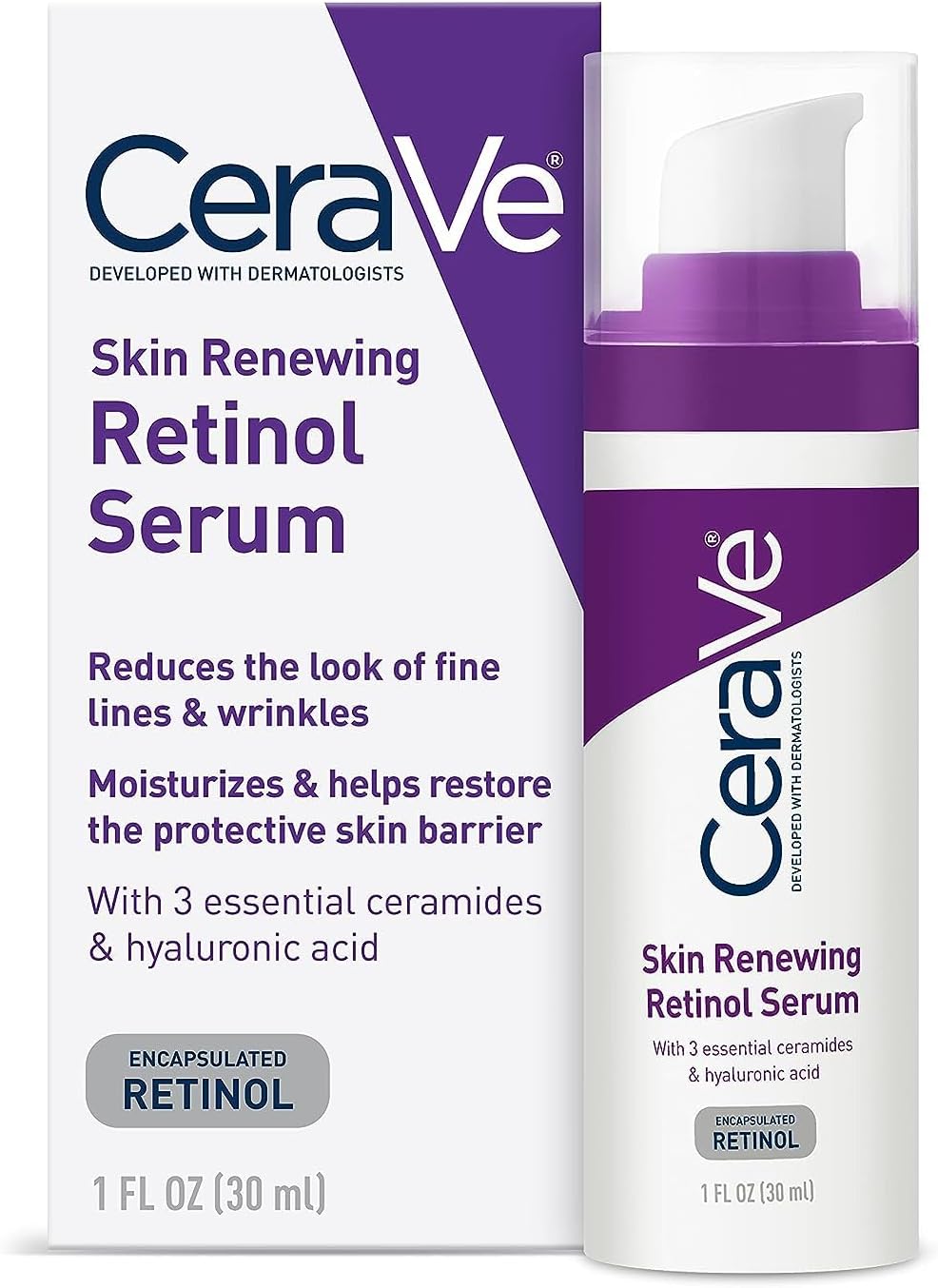 The new encapsulated formula of CeraVe Retinol Serum is worth the hype. CeraVe Anti Aging Retinol Serum is developed with dermatologists and recommended by many dermatologists for acne, fine lines, wrinkles and many skin conditions. It is very gentle on the skin. CeraVe Anti Aging Retinol Serum has a small percentage of retinol (0.20% – 0.35%) that is slowly released to reduce skin irritation. It has 3 essential ceramides. (1, 3 and 6-II) that protect the skin barrier and deeply hydrate the skin. You can use it daily with no issues. CeraVe Retinol Serum is ideal for all skin types. Make sure to be consistent with your retinol for at least 4 weeks to supple and firm skin appearance.
Size

– 1 Ounce (30 ml)

% of retinol

–

0.20% – 0.35%

Other key ingredients

– Ceramides, Niacinamide, and Hyaluronic Acid
4. Paula's Choice Retinol Body Treatment
Best High-Quality Retinol for Body

Paula's Choice Retinol Body Treatment is a great retinol for the whole body. It exfoliates the skin and makes it glowy. Paula's Choice Retinol Body Treatment is very mild and tolerable by the skin. It evens the skin tone and makes the skin firmer. In fact, it is one of the best-selling retinol treatments in 2023. I find it great for retinol starters as it contains 0.1% retinol, which leaves the skin younger-looking with minimal redness. Many people give up retinol because of the side effects. Using retinol consistently and correctly will help you improve your skin texture and sun damage. The bottle is a bit small for the price. It is a bit costly retinol but totally worth every penny.
Size

– 118 ml

% of retinol

– 0.1%

Other key ingredients

– vitamin C, Peptides and vitamin A.
5. The Solution Retinol Smoothing Body Lotion
Best Retinol Moisturising Lotion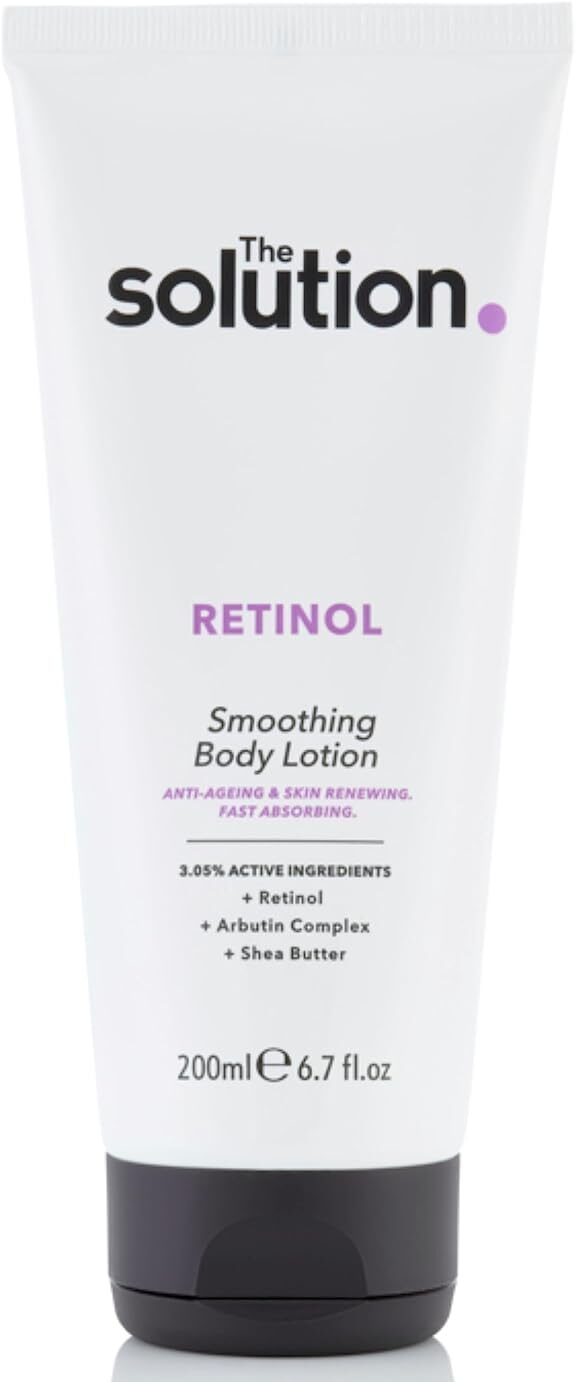 The solution retinol body lotion is great for retinol lovers. If you are using retinol on your body and looking for an upgrade, consider this 3.05% retinol formula. It leaves the skin smooth and soft. It helps fade away the dull skin. The skin quickly absorbs this formula and has shea butter, which deeply hydrates the skin and reduces skin redness—being a more concentrated retinol cream to tackle fine lines, acne and skin discolouration.
Size

– 200 ml

% of retinol

– 3.05%

Other key ingredients

– vitamin A and shea butter
6. FCL Bio retinol body lotion
Best Retinol for Fine Lines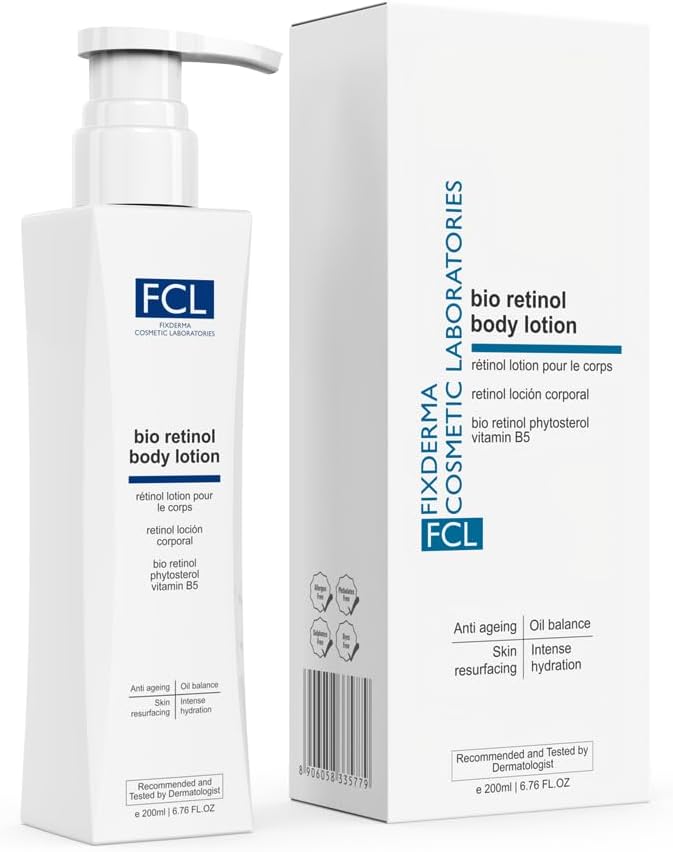 FCL Bio retinol body lotion is a plant-based retinol that is easily absorbed by the skin. The lotion has a creamy texture with a yellow colour. I loved the packaging. It is easy to dispense and damp on the skin. It has a lovely scent, leaving the skin hydrated and nourished. Make sure to massage the FCL Bio Retinol very well to be fully absorbed by the skin. It is worth mentioning that using sunscreen the following day after applying retinol is essential as the ingredient is very sensitive to light. Generally, I recommend using it for retinol beginners as it contains 0.05%. It is also a good option for people with acne-prone and sensitive skin. I feel like my skin is very nourished after using this lovely formula.
Size

– 200 ml

% of retinol

– 0.05%

Other key ingredients

– Panthenol and vitamin b5
7. RETIMAX Cream
Best Budget-friendly Retinol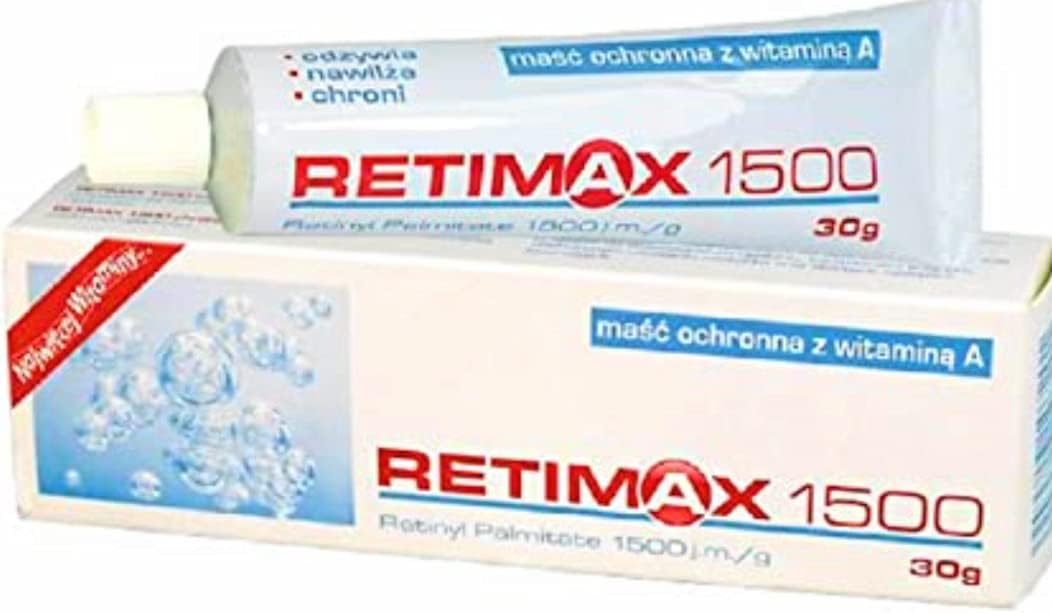 If you are sceptical about trying retinol for anti-ageing and anti wrinkles, this formula may change your mind. Retinol is a vitamin A derivative, essential for cell renewal. As we get older, our skin turnover decreases over time. That's why we may need retinol in our twenties or thirties. RETIMAX Cream is highly effective for fine lines, acne and dark sports, and it can be used for as long as you wish. There is no specific age for using retinol.
Size

– 30 gram

% of retinol

– 1,500 IU/g

Other key ingredients

–
8. Skincare Face/Neck/Hand Retinol Moisturizing & Nourishing Cream
Best Body Retinol Cream for Value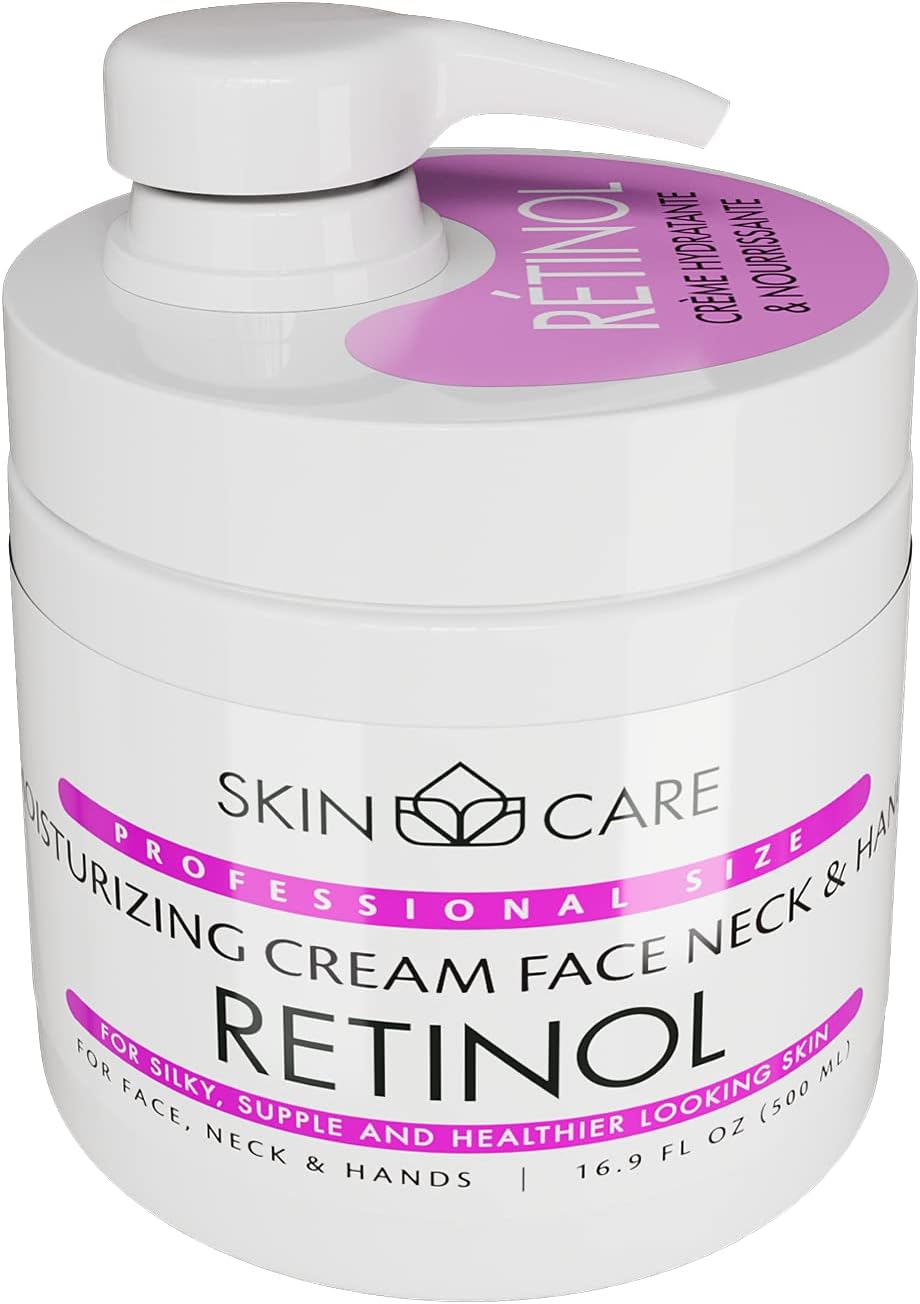 Size

– 500 ml × 2 (2 pack)

% of retinol

– not disclosed

Other key ingredients

– Mineral Oil and Citric Acid
You get a lot of retinol cream for the money when you get this product. It is also effective and worth mentioning! It doesn't only help with ageing signs but also nourishes the skin. While this retinol is one of the best ones I have attested, it doesn't reveal the percentage of the retinol in the formula. Most dermatologists recommend retinol percentage to be between 0.01% – 2.5%. This formula has a triple action designed for the face, hands and neck. Use Skincare retinol cream at night and follow up with sunscreen the next morning for the best results. It is very easy to incorporate the best retinol cream for body into your skincare routine. After cleansing your face, apply moisturiser and then retinol. Gently massage into skin using upward circular motions until fully absorbed.
Why trust BeautySkinReviews?
I'm Esraa Sheta, a Pharmacist and beauty editor. I have been researching retinol treatments and trying different retinol myself to make this guide for the past 3 months. This guide is created by researching many experts and user reviews and interviewing dermatologists in the UK to help you choose the proper treatment for your skin. The products listed don't need a prescription. However, if you have severe acne, I advise you to visit a dermatologist to get a prescription for tretinoin or other more concentrated formulas for your skin condition. Generally, retinol hand creams have a small amount of retinol to treat wrinkles, discolouration, acne and many skin conditions with minimal irritation.
FAQs
Is it OK to put retinol on the body?
Yes. It is OK to use retinol on the body. In fact, there are many retinol creams and retinol serums designed for the body with a lower concentration than the retinol used for the face. Most retinol formula for the body contains from 0.05% to 2% of retinol. Using retinol for the body clears up body acne, lightens the skin, improves the skin barrier and helps with skin discolouration. You may also use retinol to make your skin look firmer and smoother.
Is there a body cream that has retinol?
Yes, there are many body creams available that contain retinol. All the products we listed in this guide are designed for the body and can be purchased without a prescription, as retinol is a milder form of tretinoin.
How often should I use retinol on my body?
If you start using retinol on your body for the first time, I recommend using retinol once every 3 days during your first week. This allows your skin to adjust to the retinol treatment. If there is no redness or irritation, use retinol every other day. And then, if it doesn't irritate, you can safely start using retinol every day during the night. Retinol treatment for the body is applied at night.
Is retinol cream good for hands?
Yes, retinol has many benefits for treating ageing, wrinkles, uneven skin colour and age spots. As our hand's skin is very thin, it is very liable to aging. It helps tremendously as anti-ageing. It boosts the collagen product, which is essential for the skin elasticity and improves the skin's barrier. For the best results, follow up with sunscreen with SPF 30+ the next morning and reapply every few hours and every single time you wash your hands.
Can you put retinol on the back of your hands?
Yes, you should use retinol on the back of your hand as it helps improve skin texture and fight ageing signs. Make sure to use body retinol, as we discussed, as the skin on the writing is very thin and sensitive to avoid irritation.
Can I use the Ordinary retinol on my hands?
The Ordinary retinol is powerful to use on the hands. It is designed to be used on the face. Instead, most dermatologists recommend 0.05% to 2% of retinol for the body. The ordinary contains 5% retinol, which most dermatologists find very harsh on the skin. Using a very high concentration of retinol might do the opposite. It might irritate your skin and destroy your skin barrier, and we don't want it to happen.
Hello! This is Esraa Sheta, Beauty Editor and Pharmacist. I have been creating product reviews for over 7 years now. All the product reviews for BeautySkinReviews are unbiased. I carefully select the products and rigorously test them to ensure that the reviews are truthful and beneficial to customers. I'm confident that you will discover a wealth of valuable tips and tricks to elevate your skincare routine.