HEIMISH ALL clean balm is a vegan, natural, hypoallergenic, and paraben-free cleansing balm. It is a solid palm, but it turns into a gentle oil on your skin, and then it becomes milky during washing with water!
The ALL clean balm helps you remove the effects and residue of makeup without stripping your skin of natural oils. It also contains citrus herb oils that help lighten and nourish the skin.
HEIMISH ALL Clean Balm: Natural balm for daily cleansing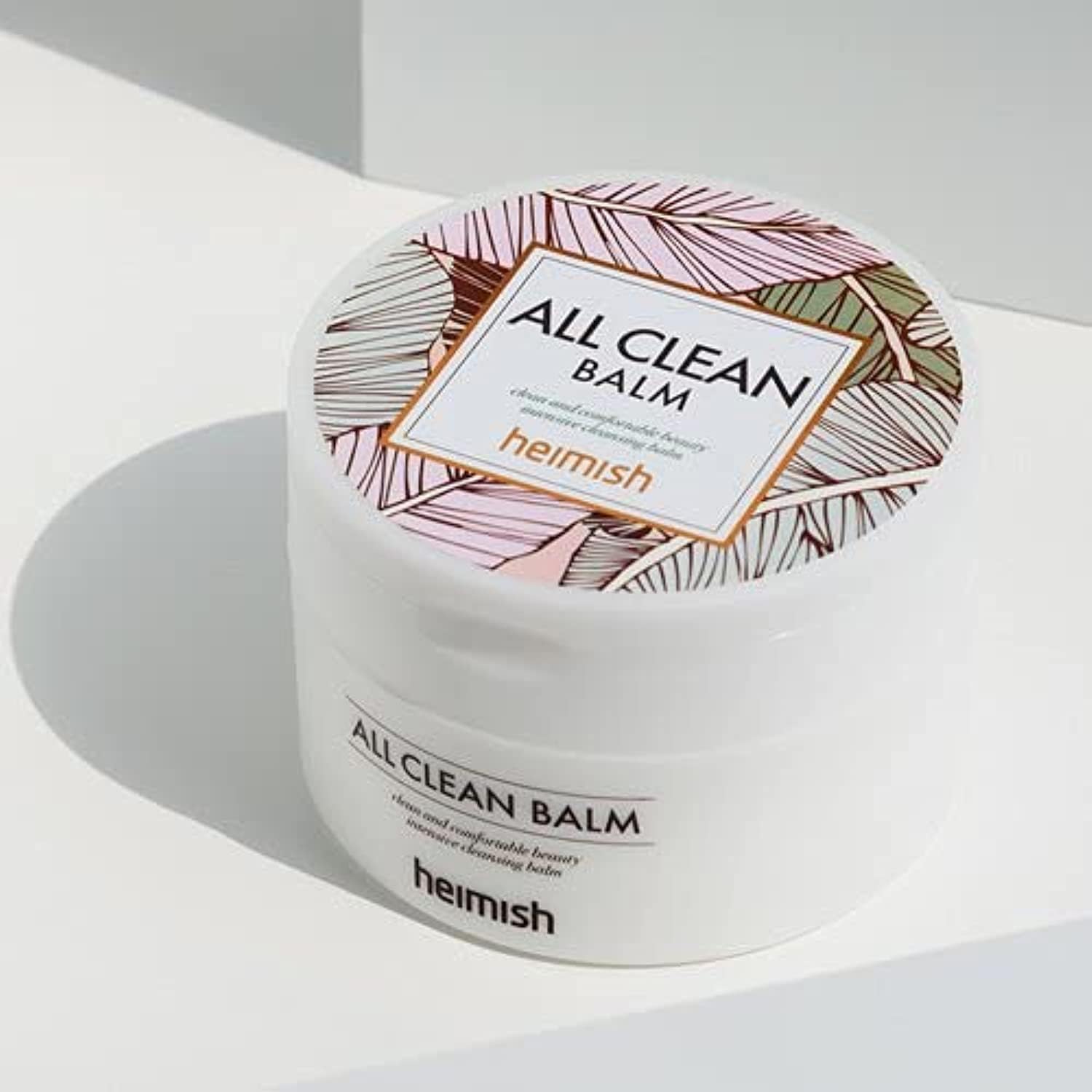 Pros:
It's suitable for all skin types and easy to apply on the skin.

It deeply moisturizes the skin, gently clears the skin, and removes all the makeup.

It can be used on a daily basis and is 100% natural.

It's good value for money, considering the size of the pot.
Cons:
It may cause blurry vision, but it disappears in a few seconds.

It may cause dehydration of the skin, so it is recommended to use a moisturiser for the skin after.
How to use it:
Scoop a small amount of the balm and then spread it over dry skin.

Distribute the balm and do a skin massage with circular movement to clean up the makeup residue.

Wash your face with lukewarm water, then pat dry.
A Closer Look at HEIMISH ALL Clean Balm
HEIMISH ALL Clean Balm is one of the best-selling balms on Amazon! Simply, it fits all skin types, including sensitive skin. This balm from HEIMISH can remove foundation, sunscreen, mascara and any oily residue perfectly.
It consists of citrus herbal oils that help to brighten and nourish the skin naturally. And it comes with an all-new flip-top lid in two sizes.
With more than 130 reviews on Amazon with a rating of 4.6 out of 5, HEIMISH ALL Clean Balm is considered one of the products with the highest sales numbers. It contains mainly:
Shea Butter: The most famous ingredient, shea butter! It comes from African chia seeds that are an effective and magical skin moisturiser.It is also rich in antioxidants (among others vitamins A, E, F, quercetin, and epigallocatechin gallate).

Tea Tree Leaf Oil: The famous tea tree oil plays a role as an anti-acne, antioxidant, and anti-inflammatory ingredient.

Coconut Fruit Extract: Coconut fruit extract helps moisturize skin and gives it a touch of softness and vitality.

Water: As with any skin care product, the balm contains water used as a solvent for ingredients that don't like to dissolve as oils.

Lavandula Angustifolia Oil: We need to mention the beautiful smell of the balm thanks to lavender oil, which also helps to give you a sense of calm and relaxation.

Citrus Aurantium Dulcis Peel Oil: The essential oil from the rind of the orange gives the balm a refreshing and pleasant smell.
Customer Reviews of HEIMISH ALL Clean Balm
"My skin is very sensitive. And usually needs a variety of products. This provides a nourishing deep clean and leaves my skin feeling healthy and comfortable.," Claire said. Original Review in the United Kingdom on 12 August 2022
With this balm from HEIMISH, I got a deep clean and saved a lot of money. I no longer need a lot of skincare products.
"Removes make-up so easily. Will buy again.," Suitlana said. Original Review in the United Kingdom on 4 August 2022
This balm does a great job at melting away sunscreen and cosmetics whilst remaining gentle on the skin and leaving it touch-ably soft
"Leaves my skin very smooth…
Take all the dead skin," Barbara said. Original Review in the United Kingdom on 11 June 2022
I have tried a lot of makeup removers, and this balm from Helmich is the best! It simply gently removes makeup, and even waterproof eyeliner and mascara can remove it.
FAQs
Is HEIMISH All Clean Balm can be used to remove makeup from the eyes area?
For sure! It is gentle for the eyes, but you should be careful when rinsing it off.
Does HEIMISH All Clean Balm help with blackheads?
Not really. The product is designed to remove makeup and its effects and does not affect blackheads.
Is HEIMISH All Clean Balm suitable for dry skin?
Yes, it's suitable for all skin types. The product has a perfect balance of nourishing oils such as shea oil and coconut oil, as well as balancing oils like the famous tea tree oil extract that is good for acne-prone skin.
Hello! This is Esraa Sheta, Beauty Editor and Pharmacist. I have been creating product reviews for over 7 years now. All the product reviews for BeautySkinReviews are unbiased. I carefully select the products and rigorously test them to ensure that the reviews are truthful and beneficial to customers. I'm confident that you will discover a wealth of valuable tips and tricks to elevate your skincare routine.