Best Korean Eye Creams in the UK: treat wrinkles, and dark circles and moisturise the area around your eyes using the best quality Korean creams for women and men.
Get rid of dark circles, puffiness, baggy eyes, and dryness using these amazing products from Korea. They will help you get rid of ageing signs and make your skin look younger than ever. I'm excited to share with you the top Korean under-eye cream.
Best Korean Eye Creams
1. 7DAYS Collagen Lifting Eye Cream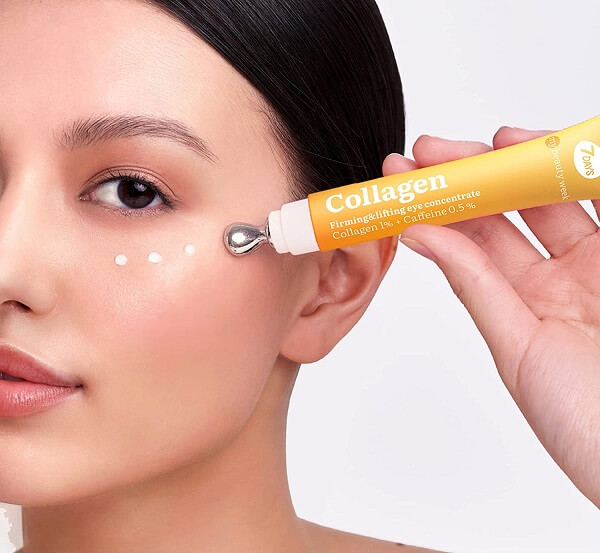 Reduces puffiness and the appearance of dark circles and wrinkles

Brightens the under eye area.

Can be used as a makeup base

Makes the area around the eye smoother and brighter

Developed and manufactured in South Korea

Eco-friendly cruelty-free and vegan.
7DAYS Collagen lifting eye cream for the under eye area contains caffeine and peptides to increase skin firmness and smoothness. It prevents premature ageing. The cream cover is a metallic applicator you can use for applying the cream under the eyes. It has a cooling effect which feels very nice and also improves puffiness, and the baggy eye quickly. Slightly angle the cryo applicator tip to spread the eye cream easily and reach all the contours around the eyes.
How to use
Press the tube slightly.

Using the attached applicator, gently apply the cream to the skin around your eyes

Use the embedded applicator to massage the area around the eyes until the cream is fully absorbed
2. MIZON Collagen Power Firming Eye Cream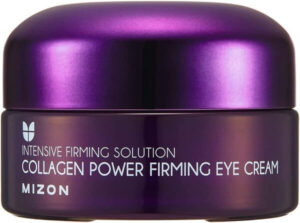 Contains highly concentrated marine collagen.

Improves skin elasticity

It keeps the skin hydrated and smooth

Suitable for all skin types

Contains hyaluronic acid, collagen, argan oil and adenosine.
Regenerative collagen with 42% marine collagen is a collagen and elastin booster. This Korean is the ultimate solution for severe eye wrinkles as it is specially designed to regenerate skin. It is one of the best Korean eye creams I have tried so far. What I loved most about this product is that it deeply hydrates my skin. it stays moist but not tacky on the skin. Highly recommended
How to use
Apply a small amount of MIZIN Collagen firming eye cream around your eyes

Tap with your ring fingertip until the product is fully absorbed.

For best results, apply the cream at night after skin cleansing
Note: In order to give the impression that you are receiving more products than you actually are, cosmetic and skincare companies frequently employ pots that are larger than necessary for the amount of product. That's why you might notice the cream package is not full.
3. Isntree TW-Real Eye Cream

61% Bifida ferment extract for optimal skin renewal.

Contains Niacinamide (vitamin B3). It is an anti-ageing ingredient for healthy, firm skin.

Suitable for all skin types even very sensitive skin

Age range – adult
This eye cream is fortified with natural oils, shea butter, mango seed butter, and 61% concentrated Bifida ferment lysate. It improves the skin barrier. I used it for 4 weeks and noticed a huge difference. The tone of the lower eyelid has improved significantly, becoming less irritated and more elastic. I think it is great to use it at night to lock moisture during your sleep and wake up with a refreshed look.
How to use
Use Isntree TW-Real eye cream after the ampoule but before cream or lotion.

Apply a pea size amount of the cream on the under eyes area

Massage the area with your fingers until the cream is fully absorbed
4. PURITO Centella Green Level Eye Cream

49% Centella extract calms the skin and boosts the production of collagen.

Gently absorbed and soften the skin without irritation

it provides intense hydration

Great under eye moisturiser

Fast results within 2 weeks
PURITO eye cream stretches out wrinkles as it deeply penetrates the skin blending 4 types of peptide elements that are ingredients of protein. Additionally, it includes 49% of Centella Asiatica extract, which makes it easier for those to use with sensitive skin and eyes. Panthenol and hyaluronic acid are additional ingredients that create a moisture barrier to calm and shield sensitive skin. Korean made.
5. Brickell Men's Restoring Eye Cream for Men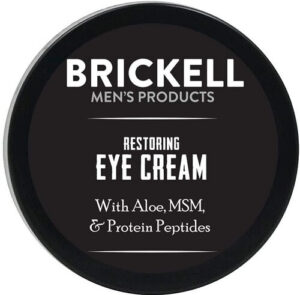 Reduces puffiness, wrinkles and dark spots around the eye

Reduces under-eye bags

Immediately absorbed with no greasy residue or shine
Brickell Men's Restoring Eye Cream is the best Korean eye cream for men. It reduces inflammation around the eyes and easily absorbed by the skin. It doesn't cream any shine or greasy look under the eyes like other brands. Men who tried it noticed a real difference after using it for a month only. Visible improvements and the cream is quickly absorbed. It is highly recommended.
How to use
Make sure that your skin is clean and dry before applying Brckelle eye cream.

Apply a pea-sized amount of the cream under the eyes

For best results, use it at night and in the morning.
Conclusion
There's a reason why Korean skin is so good. They care too much about skincare and their products are just amazing! Whether you are looking for a cream for dark circles or to refresh your skin, I have got you covered. I reviewed the best Korean eye creams for all skin types and skin concerns. They are effective and natural.
I hope you found this review helpful to you. If you have any questions about the Korean eye care routine, please write a comment below and I will be more than happy to reply to your inquiries. Check also: 12 Best Night Creams for 30s
Hello! This is Esraa Sheta, Beauty Editor and Pharmacist. I have been creating product reviews for over 7 years now. All the product reviews for BeautySkinReviews are unbiased. I carefully select the products and rigorously test them to ensure that the reviews are truthful and beneficial to customers. I'm confident that you will discover a wealth of valuable tips and tricks to elevate your skincare routine.