iThe Silk'n Glide Xpress IPL is one of the most popular devices for removing unwanted hair at home. It uses IPL (intense pulsed light) technology for long-lasting results.
Removing unwanted hair at home is very easy. You can use epilators, waxing, shaving or depilating, but these methods only remove the hair without solving the issue. Using laser hair removal or IPL reduce the rate of hair growth and reduces hair thickness, too. I'm Esraa Sheta, a Pharmacist and expert with many IPL devices, including Philips Lumea models and Silk'n Glide. Today, we will spotlight Silk'n Glide Device features, pros and cons.
Silk'n Glide Xpress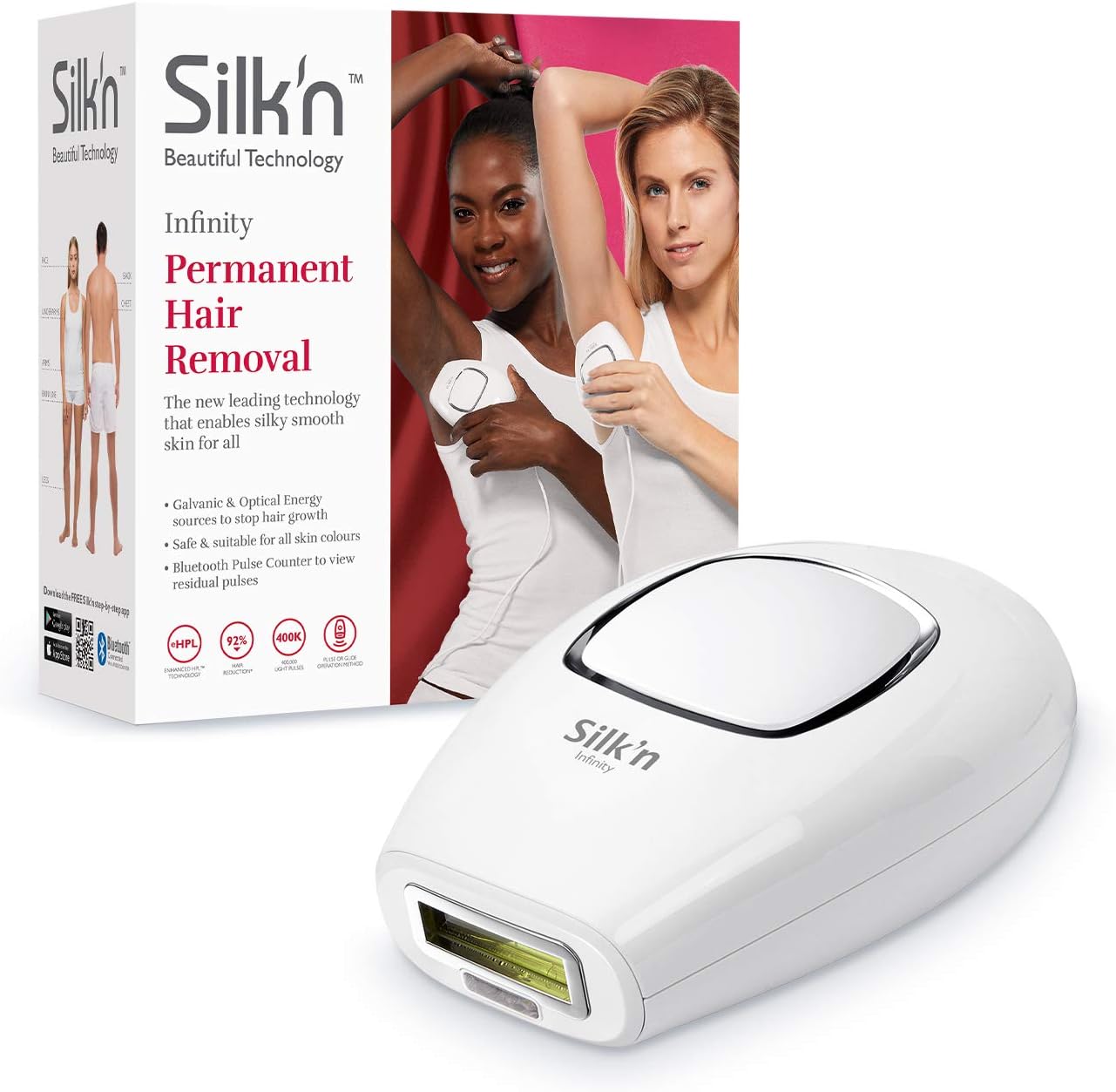 Pros
400,000 Light Pulses

It uses eHPL Technology

Suitable for Light to Dark Skin Tones

Shows long-lasting results

It is used on legs, arms, armpits, the face and the bikini line.
Cons
Comes with one treatment window 3 cm2

Skin tone sensor doesn't select your intensity level
The Silk'n Infinity Permanent Hair Removal Device is an affordable IPL device. It uses eHPL (enhanced pulsed light technology), which is the latest IPl technology in hair removal. It is faster than traditional IPL devices. Silk'n Infinity Device works corded only, and it is suitable for skin tones light to dark (similar to other IPL devices). It is not recommended for hair colours orange, light blonde and grey hair. As Silk'n Infinity Permanent Device targets the melanin pigment inside the hair follicle, the more contrast between the hair and skin colours, the better and quicker results you will get. That's why it works best for people with dark hair and light skin tones.
It is very easy to use and fast to zap. I finished my leg eHPL session in 10 minutes, and it took me around 45 minutes for full-body IPL hair removal. The device is a bit small, and the treatment window is small. It takes much time for full-body IPL hair removal compared to other IPL devices I used before. At the same time, it is great for facial hair removal and for the bikini line and armpits.
How does it work?
It uses eHPL (enhanced Home Pulsed Light). I find it faster than previous Silk'n Glide Models. It combines both galvanic and optical energy. The galvanic energy helps open the pores so the IPL light can target the roots of the hair follicles seamlessly. The device has 400,000 flashes. It has a 3 cm² treatment window, which is Okay for treating most body parts. But as I mentioned, it is better for smaller areas and using it for full-body hair removal is a bit tedious. The good news is it is actually effective the light used is powerful, and my skin showed long-lasting results after using this device for 2 months.
How long does it take for Silkn to work?
You should use Silk'n Glide Xpress for 6-8 months at least to notice a real difference. However, there are many factors for IPL hair removal results. It may be affected by hormones, the amount of hair, the skin tones and whether or not you have done laser hair removal sessions before. That's why many people notice faster results. Some people who have excess hair because of hormonal imbalance should treat the disease first to get the best results. After finishing the main IPL treatment course, you must keep using the Silk'n Glide Express Device to keep your skin smooth and hairless. The complementary sessions can be done once a month or every other month when you notice hair growing back.
How often can I use Silk'n Flash and Go?
Use Silk'n Glide Xpress once every two weeks during the first 2 months of your IPL hair removal plan. After that, you will notice the hair growing slower and thinner. Keep using the device once per month during the next 6 months. Avoid using the device too often, as it won't show you better results. Many people think that using the device weekly or every few days is better, but this is absolutely not true. As the Silk'n Glide Device targets the hair during the growth cycle, using it too ofter won't show you better results, and it may cause skin irritation and redness.
Note: the results may vary from one person to another. After 2 months, if you notice that the hair is still growing every 2 weeks, you may use your Silk'n Glide device every two weeks until you notice the hair is thinner and slower to grow.
Is Silk'N Laser Hair Removal Safe?
Yes. Silk'N Glide Xpress has been FDA-approved and Health Canada-approved since 2009. It is generally considered safe to use for IPL hair removal at home. It uses IPL technology for permanent hair removal, which is very similar to laser hair removal but has a broader spectrum. The device has a skin sensor which determines if the device is suitable for your skin tone or not. All Silk'N Glide devices are unsuitable for darker skin tones (skin type VI).
What should I know Before Using Silk'n Glide Xpress?
Read the user manual of the Silk'n Glide device before starting your IPL treatment. Make sure that you check the warnings and reasons to make sure that it is suitable for your skin. The user manual has everything you need to know, like the contraindications and who can't use Silk'n Glide.

Don't use Silk'n Glide during pregnancy if you have epilepsy. Don't use it if you are using any medications that increase your skin's sensitivity to light. If you are not sure, you can consult your GP or dermatologist doctor first before using Silk'n Glide for hair removal at home.

Don't use Silk'n Glide on tattoos, moles or any dark spots. The light may not be able to differentiate between the ink and the hair. It would be very painful and irritating to use on such an area. Try to avoid hitting them as much as you can. You can put patches to cover your tattoos and moles to prevent skin burns.

Shave the area you treat 2-3 days before the IPL hair removal.

Avoid applying moisturisers, serums, retinol creams or any sort of cosmetics or medical treatments before your IPL session. The light may interact with the skincare or cosmetic cream and cause irritation. The device must be used on bare, clean skin.
Conclusion
I find Silk'n Glide Xpress very easy to use. It is very easy to start your hairless journey with this amazing IPL device. Silk'N Glide's new model has 400,000 flashes (which is huge for the price of the device). It is very affordable compared to other devices. It is great for beginners. If you are new to IPL home, you will find this device easy to use and doesn't cause irritation or pain. You may notice that some body areas notice faster results than other areas, which is totally fine. Be patient, and you will get that summer hairless skin look!
Hello! This is Esraa Sheta, Beauty Editor and Pharmacist. I have been creating product reviews for over 7 years now. All the product reviews for BeautySkinReviews are unbiased. I carefully select the products and rigorously test them to ensure that the reviews are truthful and beneficial to customers. I'm confident that you will discover a wealth of valuable tips and tricks to elevate your skincare routine.