IUNIK Centella Gel Cream Review for skin hydration. Is it worth buying? How to use it? And is it suitable for sensitive skin?
IUNIK Centella Gel Cream is a Korean skincare cream designed to calm, moisturise, and renew the skin. IUNIK cream contains Centella Asiatica extract, which helps promote skin health and healing. To give comprehensive skincare benefits, this extract is blended with other nourishing nutrients such as Niacinamide, Adenosine, and Allantoin.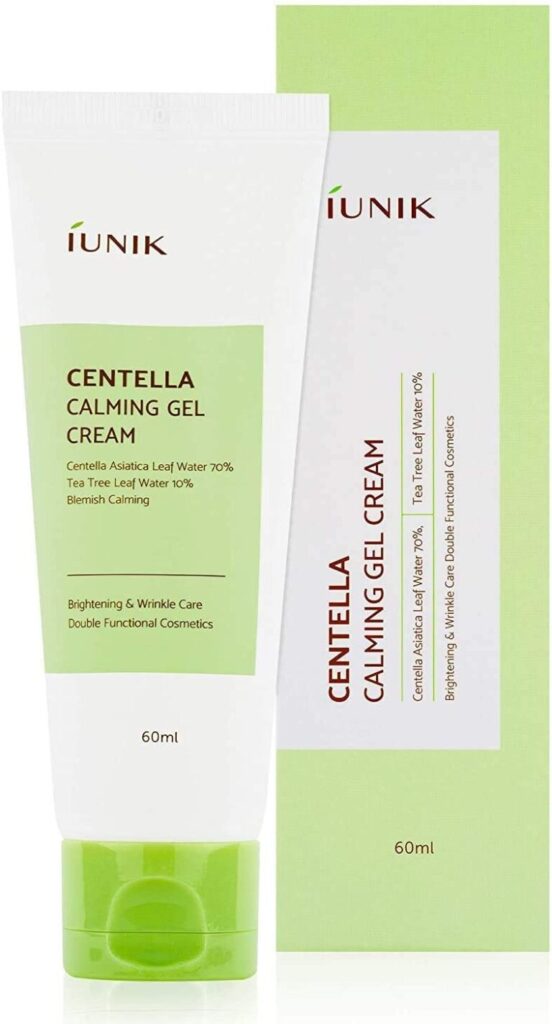 Helps to soothe and calm the skin, reducing redness and inflammation.

Hydrates and nourishes the skin – Centella Asiatica, Niacinamide, and Allantoin work together to hydrate and nourish the skin, leaving it soft and supple.

Improves skin texture and elasticity

Minimises the appearance of fine lines and wrinkles.

Suitable for all skin types

It can be used under makeup.

High-quality ingredients
The IUNIK Centella Gel Cream is a lightweight, fast-absorbing composition that is appropriate for all skin types and may be used as a daily moisturiser or spot treatment. thanks to its capacity to strengthen the skin's barrier function and boost its ability to retain moisture, niacinamide, commonly known as Vitamin B3, is an important element in skincare products. It is blended with Centella Asiatica in the IUNIK Centella Gel Cream to deliver even more moisture and nourishment to the skin.
It can be used as a moisturiser on a daily basis to hydrate and renew the skin, or as a spot treatment to soothe and calm specific areas of the skin. Check also:13 Must Have K Beauty Products
Video review of IUNIK Cream
FAQs
Is IUNIK Centella gel cream good for acne?
Yes. it is very helpful for acne-prone skin and oily skin in general, as it contains Centella Asiatica extract. It has soothing and healing properties. However, the results might vary from one person to another, depending on the type of acne you have. It is always better to consult your dermatologist first to determine the best acne treatment for you.
Does Centella help with pimples?
Yes. Centella Asiatica, which is the main ingredient of many Korean products, including IUNIK cream, has anti-inflammatory and soothing properties which help with pimples.
How do you use Centella calming gel cream?
1. Wash and cleanse your face before applying Centella calming gel.
2. Take a small amount of the cream and gently apply it to your face and neck. Avoid putting the cream around the eye.
3. Massage the cream into the skin until it is fully absorbed. It is easily absorbed by the skin in general.
4. Use IUNIK cream twice a day to get the best results
Check other Korean Products: Korean Makeup Spatula, Best Korean Eye Creams for Dark Circles and Korean Eye Creams to look younger.
Conclusion
IUNIK Centella gel cream is a brilliant face cream. It is perfect for oily skin. You can use it overnight to heal your acne and moisturise your skin. It is a fantastic choice for oily and excessively oily skin types. The IUNIK Centella Gel Cream is a must-have for anybody suffering from acne or skin redness. It is very calming and makes the skin brighter. Check 12 Best Night Creams for 30s.
Hello! This is Esraa Sheta, Beauty Editor and Pharmacist. I have been creating product reviews for over 7 years now. All the product reviews for BeautySkinReviews are unbiased. I carefully select the products and rigorously test them to ensure that the reviews are truthful and beneficial to customers. I'm confident that you will discover a wealth of valuable tips and tricks to elevate your skincare routine.